Campaign targets adults giving children tobacco products
A survey shows that 36 under-16s take up smoking in Scotland every day.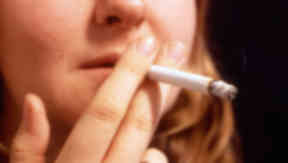 A new campaign has been launched to stop adults buying cigarettes for children.
Action on Smoking and Health (ASH) have found that the majority of children who smoke get their tobacco from friends or family, who believe they are doing them a favour.
The #NotAFavour campaign highlights the health and addiction problems young people face when they take up smoking.
While the number of young people smoking is at its lowest level since the survey began, 36 under-16s take up smoking in Scotland every day.
Supporting the launch of the campaign, Public Health Minister Aileen Campbell said: "We know that young people get hold of cigarettes mainly from their family and friends.
"That's why it's important to target this group and remind them that smoking can lead to health, money and addiction problems.
"We also know that the younger people start smoking, the harder they find it to give up later in life, so we really want to keep tobacco out of the hands of young people.
"We all want the best for our children and young people, and this campaign serves as a reminder that an easy-going attitude towards the culture of supply to children has got to stop."
Sheila Duffy, Chief Executive of ASH Scotland, said: "Most people who smoke started as children, and the great majority now say they regret it.
"We want to see a Scotland where the only people smoking are the small number of informed adults who actively choose to do so. That means getting everyone to understand that we should keep tobacco out of the hands of young people."
Peter Adamson, Chairman of SCOTSS, the Society of Chief Officers of Trading Standards in Scotland, said: "There are good reasons why it is illegal to sell cigarettes to under-18s. Adolescents get addicted to nicotine faster than adults do, and so find it harder to escape the health problems and financial costs from smoking."
Local organisations have already placed orders for tens of thousands of campaign postcards, posters and flyers, that will soon begin to appear in venues across Scotland.
Other plans underway to promote the campaign messages include promotion at petrol pumps, bus adverts and pavement stencils.
Download: The STV News app is Scotland's favourite and is available for iPhone from the App store and for Android from Google Play. Download it today and continue to enjoy STV News wherever you are.