Scottish Water using 'magic' to find underground pipes
Dowsing has been branded a 'superstitious relic from medieval times' by scientists.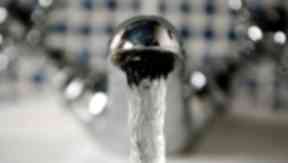 Scottish Water has admitted using medieval "magic" to find underground pipes.
It is one of ten UK water companies to have acknowledged it employs water dowsing or divination.
Practitioners claim to be able to find water using sticks but the practice has been widely debunked.
Scottish Water said dowsing is a "very small part" of the methods it employs.
"Some of our water operatives use this as one way of establishing the presence of water and pipes," a spokeswoman explained.
"However, it is a very small part of the range of equipment we use for this purpose and would never be the only method.
"We use modern technology such as ground microphones, correlators, metal detectors and other devices to pinpoint the exact location of underground assets and leaks."
Scottish Water did not respond to a request for evidence supporting its use of dowsing.
The situation was uncovered by award-winning science blogger Sally Le Page, who works as an evolutionary biologist at Oxford University.
She found at least ten out of the 12 major UK water companies use the divination, which was described as a "superstitious relic from medieval times" by the Committee for Skeptical Inquiry.
The most common method involves walking back and forth across an area of land carrying a forked stick, rod or pendulum in the belief that it will react by pointing, rotating or vibrating near water.
These effects are now believed to be caused by the phenomenon known as the ideomotor effect, which creates the feeling that muscles are moving on their own.
It is the same sensation experienced by people playing with a Ouija board who unconsciously push or pull a glass in the belief that it is moving by itself.
Experts have also attributed belief in dowsing to confirmation bias - the tendency to forget times where the method fails and celebrate it when it works.
Download: The STV News app is Scotland's favourite and is available for iPhone from the App store and for Android from Google Play. Download it today and continue to enjoy STV News wherever you are.