Two in five Scots women 'sexually harassed at work'
A ScotPulse survey shows 51% of women think sexual harassment at work is widespread.
Around two in five women in Scotland have experienced sexual harassment in the workplace, according to a new survey.
An exclusive ScotPulse survey commissioned by STV News found 38% of women say they have been sexually harassed at work, compared with 14% of men.
The research also indicates more than half (51%) of Scottish women believe sexual harassment in the workplace is widespread.
It is the first Scotland-only survey to explore attitudes and experiences around the issue since the allegations of sexual assault and harassment against Harvey Weinstein first hit the headlines.
The claims against the Hollywood movie mogul sparked the global #MeToo movement, in which thousands of women and men have come forward to recount their own experiences of sexual harassment, assault and misconduct.
A tidal wave of allegations have rocked the worlds of entertainment and politics since then, including claims against actor Kevin Spacey and former defence secretary Michael Fallon, who was forced from his post.
In Scotland, Mark McDonald MSP was first forced to quit his position as childcare minister and was then suspended by the SNP over allegations of misconduct.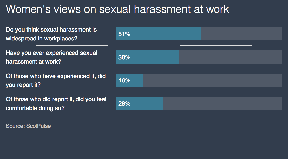 According to the ScotPulse study, which surveyed 956 Scots (546 women and 410 men), 51% of women believe sexual harassment at work is widespread, compared to 36% of men.
It also found almost half of women (47%) said they had been sexually harassed outwith the workplace at some point, with the figure 16% for men.
Of the 38% of women who said they had personally experienced sexual harassment at work, only 16% said they had reported it. This figure was 15% for men.
For those who did report an instance of harassment, just 28% of women said they felt comfortable doing so compared to 70% of men.
The most likely age group to report being sexually harassed are the 35 to 54 category, with 23% of women who say they have been harassed also saying they reported it.
More than half of women (53%) who reported sexual harassment felt more could have been done to resolve the issue.
Those who did experience sexual harassment at work but chose not to report it cited a number of reasons, including embarrassment, fears for their job security, that it was considered "banter" or normal behaviour at the time and they felt there was "no point" in reporting what had happened.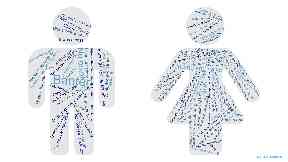 Around four-fifths of men and women agreed complainants should be taken more seriously as one way to address the issue of sexual harassment at work.
More than three-quarters (79%) of women also thought all companies should have a clear anti-harassment policy and ensure all employees have a copy, with 74% of men surveyed agreeing.
Roughly three-quarters of both men and women also said people should be encouraged to speak out if they see sexual harassment taking place.
Sarah Collins, policy officer at the Scottish Trades Union Congress (STUC), said: "We're pleased that the press has picked up on this issue and has given it so much coverage.
"It's allowed men and women to reflect on their behaviour and what is and what is not acceptable.
"It's allowed many women to feel safe in coming forward and identifying what their experiences have been as sexual harassment."
She added: "However, daily, across Scotland, there are so many instances of hidden sexual harassment which stay hidden in the staff room because people are scared of losing their jobs, because it's their manager or boss who are perpetrating sexual harassment in the first place or because they simply don't have a voice the same way that celebrities or politicians might do."
If you think you have been the victim of sexual harassment and would like to speak to someone you can contact Victim Support Scotland on 0345 603 9213 or Citizens Advice Scotland.
The online survey was based on 956 adults, living in Scotland, with fieldwork carried out from November 29 to December 3, 2017, by ScotPulse.com.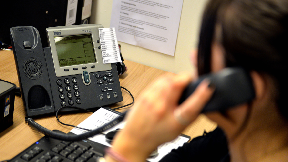 Download: The STV News app is Scotland's favourite and is available for iPhone from the App store and for Android from Google Play. Download it today and continue to enjoy STV News wherever you are.