Union warns care home closures will be a 'disaster' 
Unison is urging ministers to prevent Bield from closing its 12 nursing homes.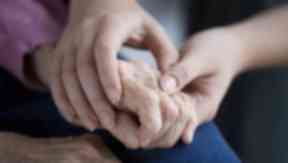 The Scottish Government is being urged to step in and prevent care company Bield from "abandoning" scores of elderly people by closing its 12 nursing homes in Scotland.
The firm announced its plans in October, saying that financial constraints meant it had to look differently at how the business operates.
Unison has warned the closures would be a "disaster", as 160 elderly people will lose their home and up to 200 care workers face compulsory redundancy.
The union has been campaigning against the proposals, and has arranged a public meeting in Glasgow for relatives to voice their concerns.
Bield, a not-for-profit organisation, is to shut its homes in Edinburgh, Falkirk, Glasgow, Borders, South Lanarkshire and West Lothian.
Unison suggests this could happen by the summer.
John Gallacher, the union's Scottish organiser, said it had been working to support affected families and was lobbying hard to stop the closures.
He said: "We are disappointed that Scottish Government ministers seem content to stand by and let the closures happen, when the lives of vulnerable elderly people are at risk, and the jobs of essential care workers in many Scottish communities are being jettisoned.
"If it goes ahead it will be a disaster."
Mr Gallacher also said integrated joint boards, set up by the government to be responsible for health and social care in difference areas, should be subjected to proper political and public scrutiny and held accountable for allowing "damaging developments" to take place within short timescales.
He added: "The public meeting on Saturday will again call for action on Bield's abandonment of residential elderly care."
'If it goes ahead it will be a disaster.'

John Gallacher, Unison
Announcing the closure plans, Bield said it had "made the very difficult decision to withdraw from the residential care home market".
A statement said: "This is a fundamental step and one which we do not take lightly, but it is in the best interests of the long-term future and sustainability of our organisation."
The company described the withdrawal of care home services as "very much a last resort option", saying it had been unable to find a viable long-term alternative.
And it stressed it was aware of the serious impact the move would have on residents, their families and those working in the homes and was working to minimise this as far as possible.
A Scottish Government spokeswoman said: "We recognise how unsettling this decision has been for all the residents, families and employees affected.
"We are working with Bield and all relevant agencies to ensure that residents' care needs continue to be met.
"The Cabinet Secretary for Health and Sport is due to meet the chief executive of Bield Housing and Care later this month to discuss progress."
Download: The STV News app is Scotland's favourite and is available for iPhone from the App store and for Android from Google Play. Download it today and continue to enjoy STV News wherever you are.