Bullying of LGBT children 'on rise in Scottish schools'
LGBT Youth Scotland surveyed hundreds of under-25s in the largest poll of its kind.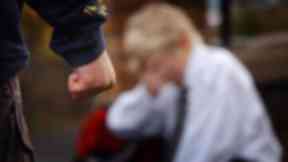 LGBT children are more likely to be bullied in school today than they were a decade ago, according to the largest survey of its kind.
Half of the children who participated in LGBT Youth Scotland's poll said school is the place they face the most discrimination.
Around 71% said they had been bullied at school in 2017, compared to 60% in 2007.
One child said: "I was often talked about in a derogatory manner while present by students in toilets and changing rooms.
"I was deliberately mis-gendered and excluded from activities as a male and forced to partake in school activities for women by staff.
"I was often called a 'tranny' or 'dyke' and told to kill myself by numerous pupils throughout high school."
One in ten LGBT young people said they had quit education as a result of homophobia and transphobia. The problem was less widespread in colleges and universities than schools.
The LGBTYS survey involved 684 people aged between 13 and 25 from across Scotland.
It also found more than a third had been the victim of a hate crime in the last year, including being threatened, punched, kicked and hit with glass bottles.
Around half of participants said they had experienced suicidal thoughts or behaviour.
'The findings of this year's report show that some experiences have changed, but not all in a positive direction.'

LGBTYS chief executive Fergus McMillan
LGBTYS chief executive Fergus McMillan said: "Our new Life in Scotland report captures a snapshot of what it's like to be an LGBT young person growing up in Scotland today.
"The findings of this year's report show that some experiences have changed, but not all in a positive direction."
Earlier this week, textbook publisher Pearson, which provides schools in Scotland with materials, said it would update its textbooks to ensure they are LGBT-inclusive.
The Society for the Protection of Unborn Children branded the decision "aggressive indoctrination" and called for a boycott.
However, LGBTYS policy and research manager Brandi Lee Lough Dennell said it is crucial children are taught about LGBT issues.
"Children spend the majority of their weekly lives in school," she said.
"It's important that they work together and having curricular support helps children recognise that LGBT people live in society and have contributed to society."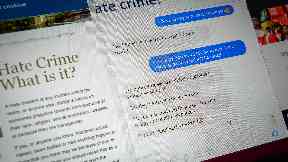 A handbook for schools produced by Stonewall and sponsored by Pearson advises teachers on how to make their curriculum more welcoming.
Hannah Kilbirige, Stonewall's director of education and youth, said: "An LGBT-inclusive curriculum is about creating an academic environment where all children feel welcome and safe.
"It's now been 30 years since Section 28 ushered in a dark era for young LGBT people at school. Unable to speak to their teachers, bullying flourished and LGBT students suffered.
"It's crucial we don't repeat history and continue to work with schools to provide support, guidance, materials and training to celebrate difference and support LGBT youth.
"This is why we've been campaigning for LGBT inclusive education, and calling on the Scottish Government to provide a national approach to supporting LGBT young people."
A spokesman for the Scottish Government said it is working to promote an inclusive approach to LGBT issues in schools.
"All young people should be able to learn in schools free from discrimination, to enable them to make the most of the learning opportunities available to them," a spokesman said.
"Bullying of any kind is unacceptable, and it must be addressed quickly whenever it arises.
"We are currently working with the LGBTI Inclusive Education Working Group to promote an inclusive approach to sex and relationships education.
"We have also commenced a national review of personal and social education delivery in schools."
Download: The STV News app is Scotland's favourite and is available for iPhone from the App store and for Android from Google Play. Download it today and continue to enjoy STV News wherever you are.