Penicillin named as Scotland's greatest contribution to the world
The antibiotic Penicillin has made it to the top of a new poll but some Scottish classics have been overlooked.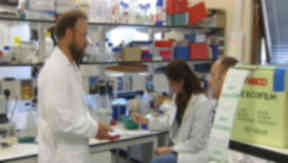 Penicillin has been named as Scotland's greatest contribution to the world in a new poll to celebrate St Andrew's Day.
The antibiotic, discovered by Alexander Fleming in 1928, came top in the survey ahead of Scotch Whisky and the telephone, which finished in second and third place. Fleming's discovery, which has been credited with saving thousands of lives, attracted a third, 33 per cent of all votes.
Scotch Whisky came second with 12 per cent of votes, and the telephone, invented by Alexander Graham Bell in 1876, third with 8 per cent of votes cast.
But Scottish classics, including Haggis, Deep Fried Mars Bars and even the capital city Edinburgh, were overlooked in the poll, and gathered no votes between them.
Kevin Brown, of the Fleming Museum in St Mary's Hospital in London said Fleming's discovery had "contributed to the happiness of all mankind".
He said the antibiotic had brought "health where there was sickness" and "hope of life where there was once only despair".
"Thanks to a chance discovery by Ayrshire-born Alexander Fleming in 1928, the world we live in was truly changed - without it many of us would not be here today," he said.
The poll was conducted by ScotsCare, a charity that provides financial assistance and employment and training opportunities to Scots living in London, in order to celebrate Scottish achievements.
People were asked to vote in an online poll to find the most important Scottish exports, including the square Lorne sausage, golf, Robert Burns and television character Rab C Nesbitt.
Chief executive Willie Docherty said: "It is fantastic to see Scotland's really great contributions to the world being celebrated. As a nation, our contribution to the world is far greater than our size."