Phil Gormley resigns as chief constable of Police Scotland
He had been on special leave since September following claims of gross misconduct.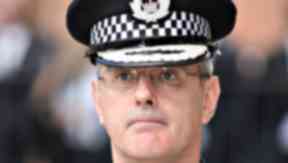 The chief constable of Police Scotland has resigned.
Phil Gormley had been on special leave since September following claims of gross misconduct.
Five separate investigations have been launched into alleged misconduct by Gormley by the Police Investigations and Review Commissioner (Pirc).
They followed seven complaints made against the former chief constable, most of which related to alleged bullying.
The seventh complaint, revealed by STV News last month, was lodged by the the Scottish Police Federation and alleged "dishonesty" at an important internal police meeting.
Gormley also became embroiled in a political row after it emerged that justice secretary Michael Matheson had intervened in a decision by the SPA in December to reinstate him as chief constable.
Matheson told Holyrood key parties had not been consulted and there was a "particular concern" about the impact the chief constable's return could have on those who had made the allegations.
The justice secretary said he had questioned "clear deficiencies" in the SPA's decision-making process, causing the body to reverse the move.
Matheson faced calls to quit from the Scottish Conservatives in the wake of the revelations, who claim he interfered in the processes of the SPA, an independent body.
The justice secretary has rejected those demands.
Gormley's resignation follows the announcement of chairman of the SPA Andrew Flanagan last year that he would standing down from his role.
A Scottish Police Authority (SPA) spokesman said: "Chief constable Phil Gormley QPM has today tendered his resignation and will leave his post with immediate effect.
"Chief constable Gormley requested a leave of absence in September 2017 to facilitate ongoing investigations into allegations made about him, which he denies.
"It has become clear to chief constable Gormley that irrespective of the outcome of the ongoing investigations he will not be able to resume his operational role in Police Scotland in a meaningful way, and the ongoing disciplinary process may take some time to complete.
"He has therefore decided to step down and end his contract ten months early in the interests of the office of the chief constable and to allow Police Scotland to move forward with their agenda and strategy which he previously set in motion
"The SPA has decided that the chief constable Gormley will not be required to work his contractual notice period."
Susan Deacon, chairwoman of the SPA, said: "Chief constable Gormley has made a significant contribution to policing in Scotland.
"I would like to thank him for this contribution and wish him well for the future.
"This has been a challenging period for all concerned, and, in the interest of policing in Scotland, we now need to move on."
Pirc confirmed that all misconduct investigations into Gormley will now cease, and the information gathered so far will be relayed to the SPA for a final decision.
A Pirc spokesman said: "Following the announcement by the Scottish Police Authority that the chief constable has tendered his resignation, all misconduct investigations about the chief constable being carried out by the Pirc will now come to an end.
"Reports containing the information gathered to date will be submitted to the SPA."
Gormley said the last eight months have been very stressful for both him and his family.
He said: "The last eight months have been difficult for me and my family, in particular I would like to thank my wife for her love and loyalty.
"The events since November 2017 have led me to the conclusion that it is impossible for me to resume my duties in a meaningful way prior to the end of my contract.
"I now need to prioritise the health and wellbeing of my family on whom these events have taken a significant toll."
Gormley added: "The support of colleagues from across the UK with whom I have served during the last 32 years has been a source of great strength.
"As chief constable of Police Scotland I have had the privilege to meet and work with some exceptional people, I wish them well for the future and it is in their interests that I feel it is right to step aside."
Deputy chief constable Iain Livingstone said: "On behalf of everyone at Police Scotland, I would like to thank Phil Gormley for his contribution and wish him and his family well for the future.
"The last few months have been a difficult time for Police Scotland and for many individuals.
"My focus, and that of all officers and staff, will remain on day-to-day policing and serving the people of Scotland as we go forward."
Analysis by STV's political editor Bernard Ponsonby
When a senior public servant, and they don't come much more senior than the chief constable, becomes a story without an end in sight, then it is always a matter of time before the words 'fall' and 'sword' are in common currency.
In a sense this doesn't resolve the central issue of his alleged conduct. He leaves protesting his innocence and feeling the victim of a witch-hunt and those seeking redress are unlikely to see any sanctions against him now that he has departed.
In a sense the accusers and the accused have both lost with this announcement today. Add that the justice secretary has been embroiled in a political row and that the SPA has lost its Chairman and you ask if the relationships between government, the SPA and Police Scotland are right.
Do the structures allow for political interference? Has the SPA been effective in overseeing policing? Has the new single force helped our hindered policing?
Expect these questions and more to feature at Holyrood tomorrow. Tonight, Scotland's police force is looking for its third chief in five years.
Download: The STV News app is Scotland's favourite and is available for iPhone from the App store and for Android from Google Play. Download it today and continue to enjoy STV News wherever you are.