Google changes iconic logo for St Andrew's Day
Internet search engine Google marks St Andrew's Day by displaying image of Edinburgh Castle and Saltire flag.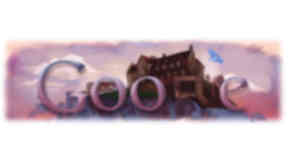 Google has replaced its iconic logo with a St Andrew's Day image to celebrate Scotland's national day.
The usual multicoloured motif was swapped for an image of Edinburgh Castle and a Saltire flag to celebrate the Scottish bank holiday.
While the internet search site insisted the move was not politically influenced, it came on the same day the Scottish Government presented the finer details of a proposed independence vote.
A spokesperson denied the Google Doodle, as they are known, had any political connotations, adding: "The Google Doodles can vary each year and are used to celebrate many different occasions, anniversaries and world events."
But the SNP Government seized upon Google's celebration of Scotland to point out that St Andrew's Day was being marked across the globe.
A Scottish Government spokesperson said: "People across the world will be celebrating the biggest and best ever St Andrew's Day and the finale to the Year of Homecoming.
"Today sees the publication of our White Paper on Scotland's future. It is now time the people had their say on what kind of country they want Scotland to be in the future."
But as Google flew the Scottish flag, fellow web-based business McBookie widened their odds to 50/1 for Scotland gaining independence by 2015.
St Andrew's Day was certified as a national holiday in 2006, and on Monday visitors were granted free admission to the capital's famous castle and were entertained by costumed performers and a fireworks display.