SNP popularity on the up, says poll
Latest figures suggest the nationalists could steal key Labour seats at the general election.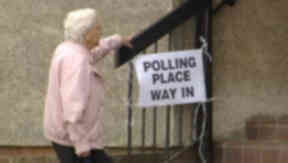 A new poll suggests the SNP could be in line to take key seats from Labour at next year's general election.
The latest figures from pollsters Ipsos/Mori showed the SNP were also likely to attract the most votes at the Scottish Parliament elections in 2011.
However, the study also showed that most Scots would prefer to see a Labour victory at Westminster than a Tory win.
More than 1,000 Scots voters were asked about their voting intentions for the Westminster and Holyrood elections, with 34% saying they would vote for the nationalists in the UK election. That represented a one per cent increase in support since August.
Labour were in second place, rising by five per cent to 32%, while 15% said they would vote for the Tories and 12% for the Liberal Democrats.
At Holyrood, the poll put the SNP on 36%, with Labour on 32% and the Tories and Lib Dems both on 12% - the lowest percentage ever measured by the pollsters in Scotland.
The SNP MSP and Minister for Parliament, Bruce Crawford claimed the figures showed Scottish voters rejecting Labour and the Tories.
He said: "In both Westminster and Holyrood these results are tremendously encouraging for the SNP, putting the party back in the lead as voters back a Scottish voice at home and in Westminster."
"Over the next few months the SNP will work hard to build the support of the Scottish people for Scottish representation in London and a vote on Scotland's future here at home."
The poll showed 61% of Scots thought a Labour government in Westminster would be "best for Scotland" compared to just 24% for the Conservatives.
It also suggested that 58% of SNP supporters would rather see Gordon Brown in Downing Street than David Cameron.
A Scottish Labour spokesman said: "If there was a general election tomorrow, the poll shows Labour would beat the SNP handsomely."
He added: "Even 58% of SNP supporters want to see a Labour Government returned to Westminster. Even the SNP's core vote wants Labour to win."