Cocaine 'delivered faster than pizza' in Scotland
One in three users say they can get can get the drug in under half an hour.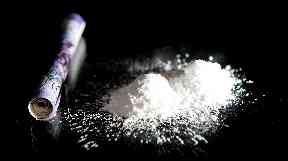 It is faster to have cocaine delivered in Scotland than pizza, according to drug users.
One in three say they can get can get coke in under half an hour, while only one in six say the same about pizza.
As drug dealing moves off the streets more people are using the dark web and WhatsApp to get their fix. Dealers are even targeting addicts on Facebook.
More than half of Scottish cocaine users have had it delivered at least once in the last year, according to the 2018 edition of the Global Drug Survey.
The Global Drug Survey is the world's largest survey of drug users and aims to make drugs safer by 'sharing information in a credible and meaningful way'.
More than 130,000 people from over 40 countries participated this year, including 1300 Scots. STV is the GDS Scottish media partner for 2018.
David, a 38-year-old former addict from Glasgow, said the ease of buying online made his habit worse and likened it to shopping on Amazon.
"I started off with prescription drugs like temazepam and Valium and then in private used heroin," he said.
"The dark net was great when I was still using. I would send Bitcoins to a guy in Amsterdam and within three days I'd have them in my mailbox."
"It was pretty much like buying off Amazon," he said. "It made my addiction worse. I purchased heroin, Valium, pre-rolled cannabis joints and amphetamines.
"I treated it like a buffet. It was accessible to the point of being ridiculous and due to crippling social anxiety I was grateful for not having to deal with someone in person.
"I was ordering in bulk about three times a week."
Nine out of ten cocaine users in Scotland told the Global Drug Survey they could have it delivered the same day - more than any other country in the world.
Dr Adam Winstock, director of the Global Drug Survey, said the immediacy of ordering online has become part of the experience for many users.
"It's breaking down and shortening that time between desire and getting that desire satiated," he said.
"That's what I worry about; that ordering online doesn't allow people the space to think 'do I really need this?'."
Around one in 20 cocaine users order drugs on the dark web, social media or WhatsApp, but most people still source their supply directly. About half buy from dealers they know and a quarter get drugs from friends.
Katy MacLeod from the Scottish Drugs Forum believes wealthier users are more likely to order online.
"Certain people are more likely to buy their drugs online," she said. "If you look at Scotland's higher rates of poverty and deprivation, it will be really regional.
"More affluent people will potentially buy drugs online but people that are with lower financial status are more likely to buy from dealers."
'Dealers don't have to go on the streets anymore... they've got direct access to your home.'

Ex-heroin addict Sharon Brand
Drug-sellers are also using social media to find customers. Sharon Brand, a former heroin addict from Dundee, was approached on Facebook.
"Somebody added me and they sent me a direct message asking me if I wanted Valium or Xanax," she said.
"I blocked them but I quickly realised that's happening all the time. You've got no escape from it because it's in your own home.
"People's health is put at risk because they've got a trigger on their phone from somebody offering to sell them drugs."
"Dealers don't have to go on the streets anymore," Sharon added. "They've got direct access to your home.
"There are drugs being sold on WhatsApp, on Facebook, on Twitter - the platforms are there and people are using them."
One dealer Sharon contacted on Facebook offered 24-hour delivery and said payment could be made in Bitcoin - a digital cryptocurrency - or Amazon vouchers. They also offered cocaine when prompted.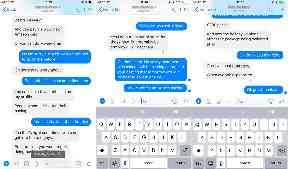 Detective inspector Allan Elderbrant from Police Scotland's substance harm prevention unit said "any commodity" could now be sourced on the internet.
"We're starting to live our lives online and most people are doing their shopping online so it's natural crime will follow that," he said.
"You can now use Facebook or WhatsApp to source any commodity, missing out the dealer and buying directly from places like China."
Dark web drug markets have been operating for at least five years, following the launch of the Silk Road in February 2011.
The infamous online marketplace, which was impossible to access without an encrypted web browser, offered thousands of illegal products in exchange for Bitcoin.
It was shut down in October 2013 following the arrest of founder Ross Ulbricht but a number of copycat sites have taken its place.
Download: The STV News app is Scotland's favourite and is available for iPhone from the App store and for Android from Google Play. Download it today and continue to enjoy STV News wherever you are.