Scots caught up in Manchester bombing to return to city
Lorraine Ness and Leigh Tilley will visit the city for the first anniversary of the tragic event.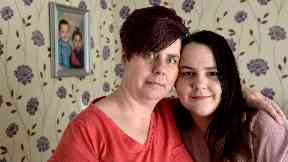 Two Scottish girls caught up in the terror attack in Manchester arena will return to the city one year on.
Lorraine Ness, 10, and Leigh Tilley, 18, were just two people in the crowd who were caught up in the aftermath of the terror attack on May 22 last year.
The attack claimed the lives of 23 people and injured more than 800 others after a suicide bomber attacked the arena after an Ariana Grande concert.
Although Leigh has summoned the courage to go to concerts again, she vowed to herself to never return to the Manchester Arena.
The photography student had been looking forward to the gig for months but now struggles whenever she hears an unusual noise during a performance.
She will return to Manchester for the first anniversary of the tragic event along with many other survivors.
Leigh said: "There's not a day goes by when I don't think about what happened.
"It may get easier in time but I will never forget it.
"Lorraine said she would never go to a concert again but we had tickets for other gigs already booked.
"The first one we went to was Miranda Sings at Usher Hall in Edinburgh in September.
"Any time there is a noise though you jump but we have been able to enjoy the concerts too and Lorraine has been the happiest I've seen.
"However, I would never be able to go back to the Manchester Arena again."
When the bomb went off the pair were still in the building. as panic ensued they struggled to find their parents outside.
Mums Nicola Fitzpatrick and Alyson Smith say they've been emotionally affected like many other parents who were waiting outside on that night.
Lorraine's mum, Alyson, 39, from Dunfermline, Fife, added: "I wasn't sure about them going to another concert, but you've got to let them live their lives.
"We said to them, right phone us when you get inside, tell us you're okay, keep hold of each other's hands, make sure your phone's charged, ring us as soon as it's finished.
"There was a worry there and the thing is we can't tell them it will never happen again because you just never know.
"Lorraine is very young so I've had to keep an eye on her.
"At first, she wouldn't speak about the incident at all but now if she sees something on the television she'll ask so many questions."
Recently, the girls have seen Dua Lipa and Rita Ora live and have noticed that security has been a lot tighter since the event.
Alyson added: "I think we've realised how huge the bombing was for the UK and the world and it is strange to think we were caught up in it."
The two girls alongside their mums are set to go to Manchester to mark the one-year anniversary next Tuesday.
Nicola said: "We think that's important that we come together with everybody on the day.
"We've not spoken to anyone who has gone through the same thing as us and I think it will bring us some closure."
Download: The STV News app is Scotland's favourite and is available for iPhone from the App store and for Android from Google Play. Download it today and continue to enjoy STV News wherever you are.