Miracle seal pup released back into wild
Pup Hope, pictured being released back into the water, was found abandoned and injured on a beach in Iona aged just two weeks.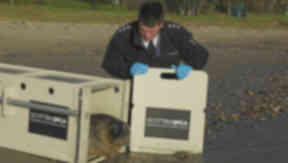 A seal pup rescued by the Scottish SPCA with a broken jaw and covered in lacerations has been successfully released back into the wild against all the odds.
The pup, named Iona by animal welfare staff, was found injured and alone on a beach on Iona in September.
He was only two weeks old and still covered in his white fir, dependent on his missing mother's milk and too young to be separated from her.
Hope was taken to the charity's Wildlife Rescue Centre in Fife, where staff thought he may not survive.
But following life saving surgery, Hope has now been released into the wild by Scottish SPCA Chief Inspector Brian Cowing.
Centre Manager Colin Seddon said: "When we initially examined Hope we found several wounds on all four of his flippers, some badly infected. He also had wounds to his body and chin, all of which were caused by being swept off his pupping grounds during stormy weather and then bashed against rocks.
"He was immediately put on a course of antibiotics and his wounds were bathed. After a couple of days it became apparent that he had a problem eating and an x-ray revealed a broken jaw.
"Because he had so many injuries we arranged for him to have an ultrasound examination to look for any internal damage, but thankfully none was found. So the only problem remaining was the broken jaw.
"Without treatment he would never have been able to feed properly and he would simply have died in the wild.
"We decided to arrange for our vet to wire his jaw in an effort to encourage it to heal.  For the next three weeks Hope was fed fish soup through a tube to allow his jaw to repair, which it did very well.  Once the wires were removed and all of his wounds were better he progressed to a whole fish diet.
"He was then placed in our outside pool and went from strength to strength. Hope arrived with us a very frail 17kgs and was released at a very healthy 42kgs. He has really lived up to his name, because we could not have hoped for a better result."