Victorian bridge reopens after refurbishment
Abbey Bridge in Paisley reopens following £1.5million refurbishment programme.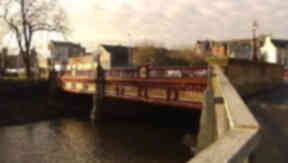 A Victorian bridge in Paisley has been restored to its former glory following a £1.5million refurbishment programme. 
Abbey Bridge has been shut to the public for the last six months while its support structures were replaced and iron panels and parapets recast.
The historic landmark, which spans the White Cart River in the heart of Paisley, was built 130 years ago, but earlier this year the B-listed structure was found to be in need of repair. 
During the renovation programme the support structures were replaced, the lattice girder walkways lifted out and 13 tonnes of iron panels and parapets recast. 
Engineers replaced all the metal work on the bridge during the project but managed to save the lanterns and the centre pieces, which date from 1979.
Councillor Marie McGurk, of Renfrewshire Council, has welcomed the work, which she said is vital to the town.
She said: "It is actually paramount to the centre of Paisley and allows people to access from one part of Paisley to the other. It encroages on the Abbey, Paisley Town Centre and the council itself."