Andy Murray makes TV commentary debut at Wimbledon
Tennis star offers insights on quarter-final clash as he recovers from hip surgery.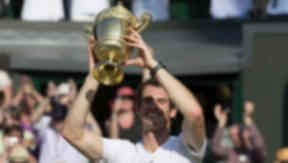 Sir Andy Murray is not playing at Wimbledon but he has taken to the commentary box instead.
The 31-year-old is trying his hand at punditry while he waits to regain fitness following a hip injury that has kept him away from tennis for a year.
And the first match he offered his insights on was that of Rafael Nadal and Juan Martin Del Potro on Centre Court.
Sir Andy made his BBC commentary debut and took a seat alongside Andrew Cotter and Tim Henman.
The broadcaster conducted an online poll to ascertain who the public thought was more boring out of Henman and the Scot, after Sir Andy joked that the vote could be arranged.
And fortunately for him he won the poll with 65% of respondents saying Henman is more boring.
At the start of the match Cotter welcomed Sir Andy to the "dark side", later referring to the two-time Wimbledon champion's head for statistics.
Writing on his blog before commentating, the father-of-two said: "On Wednesday I will be commentating on one of the men's quarter-final matches for BBC TV.
"I've done bits and pieces on radio before but not a whole match. I've not had any tips off Tim Henman - I would get tips off someone different.
"From one of the experts! I'm always messaging him when he's commentating telling him he's talking rubbish! Of course that's a joke."