Rogue security firms blocked from bidding for public contracts
Crackdown will ban companies with links to organised crime from carrying out work paid for by the taxpayer.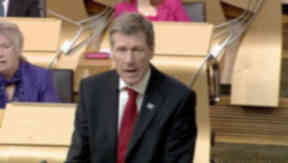 Rogue security firms which help fund organised crime are to be blocked from bidding for Government contracts.
From now on, only firms with an "approved contractor" kitemark will be allowed to carry out private security work.
The crackdown was announced by Justice Secretary Kenny MacAskill on Monday ahead of a meeting of the Serious Organised Crime Taskforce.
Mr MacAskill said: "I am determined to ensure that public money does not make its way into the criminals' coffers.
"That means ensuring that our contracts go only to legitimate businesses and that taxpayers' money is not siphoned off to fund organised crime.
"Only companies that meet the Security Industry Authority's standards will get contracts that we let."
The move followed a call from the director general of the Scottish Crime and Drug Enforcement Agency (SCDEA) for the system of handing out public sector contracts to be tightened to freeze out firms linked with gangsters.
Mr MacAskill added: "We will continue to identify ways to take on the crooks and to win - for the benefit of businesses, communities and individuals."
The Security Industry Authority (SIA) Approved Contractor Scheme is a voluntary initiative which provides a hallmark of quality for suppliers of private security services.
SIA chief executive Bill Butler said: "We welcome this innovative approach by the Scottish Government.
"It will ensure that only those contractors meeting the high standards of the voluntary ACS scheme will be involved in government contracts in Scotland, providing reassurance to the public."