First Minister unveils climate change task force
Group aims to ensure Scotland hits climate change targets.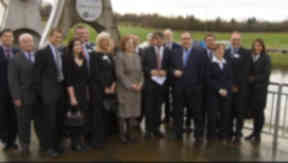 First Minister Alex Salmond has unveiled a group of senior figures from the public, private and third sector who have come together to ensure Scotland hits its climate change targets.
The new 2020 delivery group, convened by Scottish and Southern Energy chief executive Ian Marchant, met for the first time at the Falkirk Wheel.
The group will ensure that all sectors of Scotland's economy and civic society are able to contribute fully to achieving the Climate Change Delivery Plan, including the target of a 42% emissions reduction by 2020.
It comes as he United Nations Climate Change Conference meets in Copenhagen.
Mr Salmond said: "There should be no doubt that climate change is the greatest environmental threat we face, so we must act now, and act together, to tackle it.
"And there should be no doubt about the commitment of the Scottish Government, Parliament and our private, public and third sector partners to tackling climate change.  This new group brings together a wide range of expertise to examine in detail the actions needed across Scotland to meet our ambitious climate change targets.
"Not only does our climate change legislation have the most ambitious targets in the world, it includes a clear strategy to implement them and today is a key part of that.
The group is being led by Ian Marchant, chief executive of Scottish and Southern Energy.
He said: "Climate change and delivering an economy based on securing sustainable energy sources are twin challenges for Scotland's environment, economy and people".
"Government alone cannot hope to tackle these challenges. This is where the proposal for the 2020 delivery group has come from; a view that those key people in Scotland who are in a position to contribute or influence action should work together.
"It is fitting that we meet for the first time as the summit in Copenhagen gets under way, as it sends a strong message to that summit, that here in Scotland we are demonstrating leadership and acting positively to deliver the changes that are necessary.
"Today we initiate a process, and anyone who feels they have something to offer in support of practical delivery will be invited to contribute as the group sets out its work programme."