Drunk woman who spilled toddler into traffic dodges jail
Barbara Garry was looking after the two-year-old when she dropped her and a pram laden with alcohol into a busy road.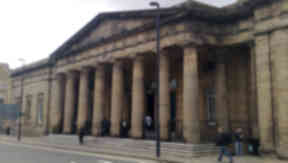 A woman who fell into a busy road with a toddler and her alcohol-laden buggy was so drunk she told police she could not remember she even had a child with her.
Barbara Garry toppled over into traffic and knocked the toddler out of her pram into oncoming traffic a busy road because she was too drunk to stand up.
A court heard that Garry, 34, lay in the road unable to pick up the two-year-old girl, who cannot be identified for legal reasons, as several cars and a bus had to avoid hitting them.
The toddler was injured as a result of the fall, but amazingly escaped further harm as drivers on the city centre road managed to avoid striking the child.
Garry was helped to her feet by a shopkeeper and when she was arrested by the police she promptly vomited all over the back of the force vehicle as she was taken to Perth Police HQ.
When the officers spoke to her, Garry was so drunk that she had no idea she had even had a child with her and was unaware the toddler had been taken to hospital for checks.
Fiscal depute Charmaine Cole told Perth Sheriff Court: "She was stumbling around and could barely stand. A bus had gone past and a passenger had also seen the child lying in the roadway.  When police saw the accused the child was still not strapped in to the pushchair.
"They saw there was a considerable quantity of alcohol within the pushchair. She was unable to stand up without being supported and was clearly incapable of looking after the child."
Garry, of Drummond Crescent, Perth, admitted exposing the child to danger and further injury and neglecting the child in County Place, Perth, on 24 August by being under the influence and incapable of looking after a child.
Solicitor Rosemary Scott, defending, said: "She has no recollection of the incident. She was horrified she could put the child in danger and horrified by what might have happened. The child might have been badly injured.
"She very much regrets being involved in this offence and the distress it caused. The child could have been seriously injured or killed."
Sheriff Michael Fletcher placed Garry on probation for 12 months.