Stabbed police officers speak of ordeal for first time
PC Mackenzie said he thought 'I'm not going home tonight' during the knife attack.
The police offers who were stabbed on duty have spoken publicly for the first time.
Laura Sayer and Kenneth MacKenzie were attacked when they were called to assist an NHS colleague with a mental health patient in Greenock, Inverclyde, on June 1.
William Taylor lashed out and stabbed Mr MacKenzie several times in the neck after the doctor tried to section him under the Mental Health Act.
Speaking of the ordeal, constable MacKenzie said: "He was frantically stabbing at me and I remember the thought going through my head was 'I'm not going home tonight."
PC Sayer added: "It's been extremely tough.
"It's somewhere you don't ever expect to be.
"But we're both still here and that's the main thing."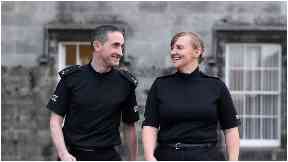 The officers, alongside constable Finlay Dobson, who raced to the scene to support the officers, were this week commended for their bravery by winning the overall Scottish Police Federation (SPF) Bravery Award.
The SPF said the officers continued to try and bring Taylor under control to protect their colleagues, despite their serious injuries.
Constable MacKenzie said: "I was on my back on the worktop and he was frantically stabbing at my body armour, at my neck and at my head.
"I couldn't get any equipment out at that time to defend myself.
"I was using my hands to push the knife away and my hands were all cut from the knife.
"It was fear, panic, dread."
'It was fear, panic, dread.'

Constable Kenneth Mackenzie
Taylor then turned his knife on PC Sayer, stabbing her in the neck and arm, leaving her with severe injuries, unable to work for several months.
She had been in the job for just 12 weeks.
"He managed to back me up against a wall and was stabbing at my chest" she said.
"I was down on the floor and he was stabbing in at my head and that's the point when I think he caught my arm."
Justice secretary Humza Yousaf presented the awards.
He said: "These officers are a shining example of the extraordinary acts of bravery and heroism that are frequently demonstrated by our Scottish Police Force but which often go unrecognised.
"When our officers respond to calls, they could have no idea what they might face when they get there. They deal with extremely challenging situations, many of which jeopardise their own safety and yet their priority is to ensure the safety of others.
"I personally commend their bravery and thank each of them for their outstanding service. I am delighted to present this award to these exemplary officers."
Download: The STV News app is Scotland's favourite and is available for iPhone from the App store and for Android from Google Play. Download it today and continue to enjoy STV News wherever you are.