World Aids Day: 'People are scared of HIV' says musician
Jazz musician Stephen Duffy says that stigma is still the main barrier surrounding HIV.
Reporting by Marina Force
Stephen Duffy was 41 years old when he found out he had HIV. It's a memory that is particularly vivid for the jazz musician because he was diagnosed the summer of the London Olympics.
"In early 2012 I lost my voice and I had some aches and pains for a short time", he recalls.
"I knew what was happening to my body. I could recognise the telltale signs because I had seen them in so many friends.
"It wasn't scary, it was upsetting for a very short time, but thanks to the people around me and the knowledge that I had, I quickly pulled myself together.
Duffy was no stranger to the condition. His relationship with the disease dates back to his late teens, when he first decided to volunteer with a Scottish HIV charity, shortly after coming out as gay.
It was the stereotypical narrative around AIDS and homosexuality that pushed him into campaigning. Three decades on, it's the persistent stigma that encourages him to be vocal and spread the word in schools, community groups and places of worship.
"People are very scared of HIV and they have absolutely no reason to be.
"They are scared of people with HIV because they think the virus will magically jump across the ether and infect them.
"And it can't do that."
HIV has come a long way in the over 30 years of its existence and advances in medication and care means that people on effective treatment cannot pass the virus onto anybody else, he explains.
"My everyday life is exactly the same as everyone else's.
"The only difference being that I take a single tablet at night with my dinner. It's an antiretroviral and it controls HIV. It it also makes me, what we call undetectable: It makes it impossible for me to pass the virus on."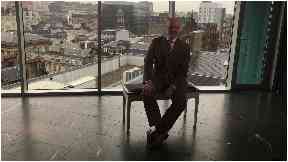 "HIV is not a death sentence."
Duffy has lost some great friends to HIV over the years. However he does not equate it to death.
"This thing isn't something that kills people anymore. It's the least of my worries.
"Once upon a time it did scare the heck out of me, and now it's just an unwelcome house guest that I have to live with for the rest of my days."
In Scotland, there are almost 5,300 people sharing their lives with HIV. Stigma, however, remains the main barrier to routine testing, which is key for an early treatment.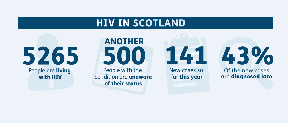 In an attempt to bust misconceptions, Duffy has recently shared his story in a book launched by HIV Scotland to mark World Aids Day.
Disclosures: Rewriting the Narrative About HIV personifies the experiences of the full diversity of people living with the condition, in an attempt to battle misinformation.
Duffy, as many other campaigners and health professionals, believes that we are in the way of making HIV new infections a thing of the past.
"We can control HIV in Scotland. In fact, AIDS, that awful thing of the 80s and 90s is pretty much extinct."