Dunblane siblings visit Washington to challenge US gun laws
Trio took part in a vigil and met politicians and families during their stay in America.
Siblings of Dunblane shooting victims have travelled to Washington to meet campaigners fighting for gun controls in the US.
Jack and Ellie Crozier, who lost their sister Emma in the massacre, made the journey with Catherine Wilson, whose sister Mhairi died in the 1996 attack.
They were invited by the Newtown Foundation to take part in the National Vigil for Victims of Gun Violence, alongside families of US shooting victims.
And they met senior American politicians who want to tighten the rules on gun ownership in their country.
16 children and one teacher were shot dead at Dunblane Primary School in 1996, an act which led to handguns being banned across the UK.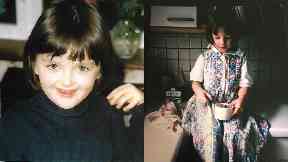 Jack told STV News that he wants to use Emma's story to inspire similar change in the US, where the Second Amendment protects the right to own a gun.
More than 13,000 people have been shot dead in America in 2018 alone, including more than 3000 children.
Jack said: "We have a really poignant story and that story needs to be heard.
"Not just the story about Dunblane and the loss that we suffered, but the story for the fight for change after that.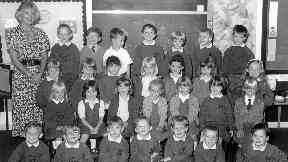 "What America needs just now is change from the inside, but what we can do from the outside is to influence that change.
"We can put international pressure on the leaders of America to fight for their kids, that's what so important right now, and that what we're going to do."
The Dunblane siblings met the relatives of children killed in American mass shootings, including the parents of Joaquin Oliver, who died at school in Parkland, Florida earlier this year.
He was one of 17 pupils who died at Marjory Stoneman Douglas High School, while another ten died in a shooting at Santa Fe High School in Texas.
They also met Congressman Ted Deutch, whose district includes Parkland. He believes Democrat gains in the mid-terms will open the door to fresh legislation.
He said: "We're going to pass the Comprehensive Background Checks Bill really early, I am absolutely confident.
"The opportunity I've had is to meet young people from Newtown, from Scotland, from all around the country and from all around the world.
"You can really can't overstate the impact.
"Because of you there is a gun safety majority that's going to come back to the United States House and be sworn in on January 3."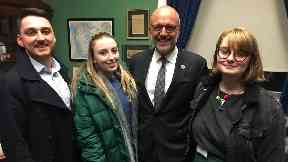 I became so scared - every day of my life
Jordan Gomes was nine-years-old in 2012 when she survived a mass shooting at Sandy Hook Elementary School in Newtown, Connecticut.
Now 15, she told STV News about the lasting effects of that tragedy and why she was encouraged to learn that young people from outside America were fighting for gun controls.
"I was nine-years-old and I was in fourth grade at Sandy Hook Elementary School when the shooting happened. Now that I look back on it, it was strange to see kids ... they could tell.
"They knew that something was deeply, horribly wrong. But because we were only nine, we could never fathom a situation like that.
"How can you be a kid any more after experiencing that?
"Knowing somebody could walk in and murder 20 kids who were only a couple of years younger than you and six of your teachers.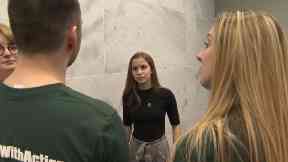 "Even if we didn't know exactly what happened, all the details, what we did know was enough to ... ruin us.
"I became so scared, every day of my life, like for years and years.
"I couldn't even go to bed without checking all of the rooms in our house, because 'is there somebody in here?'. 'Are the doors locked?'. 'Are the windows locked?'.
"I was scared of everything. I didn't like going outside and loud noises would make me jump, they still do."
View from the US pro-gun lobby
Tyler Yzaguirrie is president of the pro-gun Second Amendment Institute.
Its mission statement is to "educate, activate and empower individuals to be effectively mobilised" for the Second Amendment, which allows the right to own a gun.
He told STV News why he is against gun control.
"People always compare the Australian and UK model to the United States.
"First of all, you're talking about a country with 13m and 30m [people] compared with 350m. So there's always going to be more crime in a country with more people. It's just mathematics.
"So why punish the good guys for what the bad guys are doing?
"And that comes back to the argument - the only way to stop a bad guy with a gun is a good guy with a gun.
"And that's why you see concealed carry holders, such as myself, who's never had to use it thankfully, helping stop crime, helping police in certain situations.
"Look at Texas and Virginia; they now have concealed carry on campus. There have been no mass shootings there now.
"The bad guys know that the students are armed, it's a deterrent. Criminals love gun-free zones, so how do we fix that?
"We put in armed security guards. We let students conceal carry, we have locked doors. We have, if you want, we have metal detectors."
What now?
Ellie and Jack hope their work can show the next generation of US politicians and the families of gun victims that change is possible.
Jack said: "Even though it's been over 20 years since what happened at Dunblane, people in America still aren't aware in the change in gun culture in the UK
"We did have hand guns, they were prevalent in our society, but they are completely removed now.
"People find it so hard to believe that the police don't walk about with guns on their hips.
"So just explaining that to people and explaining that there is a different way of life, it seems to have an impact."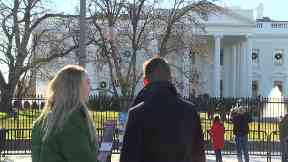 Ellie added: "Obviously the culture is completely different in America, but the fact that the UK had a tragedy and made the effort to fix it is like a guiding light in a way.
"We've done it, you can to. It's possible.
"I think for people that can remember Dunblane, they need to appreciate that people in America are going through that kind of pain, that sort of absolute strife every single day in America.
"30,000 people a year are killed by gun violence and it's just completely unacceptable."
Download: The STV News app is Scotland's favourite and is available for iPhone from the App store and for Android from Google Play. Download it today and continue to enjoy STV News wherever you are.