Teacher given chance to wipe assaults from record
Appeal judges allow Michael Barile to challenge sentence for minor assaults on pupils - even though deadline has passed.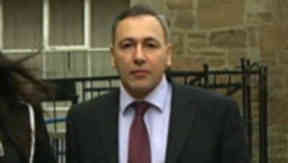 A former teacher dragged through the courts after classroom confrontations with abusive pupils has been given a chance to wipe the assaults from his record.
Judges in Edinburgh allowed Michael Barile, 52, to challenge his sentence on Thursday - even though the deadline for such an appeal has passed.
Two weeks ago at the Justiciary Appeal Court in Edinburgh the same judges threw out Barile's attempt to overturn his convictions for minor assaults on teenage boys - but added a note of sympathy and backing for the ex-maths teacher.
They said the prosecution was not in the public interest, given the teenage boys' "disgraceful behaviour."
Barile was admonished after a trial at Dundee Sheriff Court last December.
But he also lost his job at Dundee's Lawside Academy even though a Sheriff Charles Macnair QC told him: "I accept that you were subjected to extreme abuse by these two young men".
Since then Barile has vowed never to return to teaching but wants to keep his job with a charity linked to Dundee United Football Club, and his seat on the board representing the fans interest.
He will be able to do this only if his legal team can persuade appeal judges to reduce the admonition to an absolute discharge - a finding which will remove all stain from his record.
Judge Lord Kingarth told defence QC Graham Bell that "in the somewhat unusual circumstances of this case" he could have seven days to prepare for the next stage of the appeal.
A date for a further hearing will then be set.
The trial at Dundee Sheriff Court heard how in January 2008, a 14-year-old boy was disrupting a maths lesson at the Academy in West School Road, Dundee, and told Barile: "Your breath stinks." When Barile was writing a note about the bad behaviour the boy grabbed the paper from his desk.
Barile grabbed the boy's shirt, pushed him back a couple of paces and threatened: "I'll put you through the blackboard."
Another incident happened in a history class in May last year when another boy, also 14-years-old at the time, swore at the teacher and called him "a walking penis." Barile told him to stay behind after the class and pinned him against a wall by putting an arm across his chest when the boy tried to walk out.
Barile of 474 Strathmartine Road, Dundee, was cleared of three other charges of assault.