Terror DVD student jailed for six months
Bilal Malik sent 'terrifying' film containing graphic images of terrorist acts to neighbours.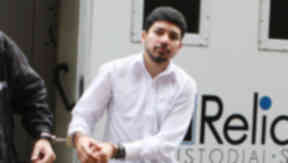 A Pakistani student at a Scottish university has been jailed for six months for sending a DVD containing horrific scenes of terrorist atrocities to his neighbours.
Illegal immigrant Bilal Malik, 28, admitted terrifying his neighbours by sending them a DVD with graphic images of terrorist acts.
He posted a shocking DVD that showed the 9/11 terrorist attacks, the Iranian Embassy siege, bloody war scenes from Iraq and Afghanistan, and graphic shots of dead bodies, through the letterbox of a horrified family.
The practising Muslim, a student at Dundee University, hoped that the explosive film downloaded from the internet would "frighten" the unsuspecting couple.
He now faces deportation to his homeland of Pakistan after it was revealed he has been an illegal overstayer in the UK since 2005.
At Arbroath Sheriff Court Malik pleaded guilty to a breach of the peace charge after allegations of "anti-western sentiment" were deleted.
Depute fiscal Hazel Anderson told the court that Malik posted the DVD to a house in Arbroath on September 2 or 3 last year, after his family home had mistakenly received the couple's mail.
He delivered the mail to the right address, and slipped through the letterbox his own parcel, despite not knowing them personally.
The parcel contained the DVD and a message that read: "The post woman made a mistake and you will also because you don't have time to watch this film."
A 29-year-old female occupant found the parcel, opened it, and put the mysterious film into her DVD player.  She was "extremely distressed and alarmed" by what she saw and contacted police.
Tayside Police officers found Malik's fingerprints on the handwritten message and after an extensive police search, in conjunction with the Metropolitan Police, eventually traced Malik at his mother's home address in Arbroath this September - almost a year later.
Asked by police about the film - which is called Zeitgeist - he replied: "It is a very convincing film, that Christianity is not true, and is fake."
Defence solicitor Keith Sym said that while his client was a Muslim, he "did not consider himself radicalised."
Sentencing, Sheriff Stein said: "It is clear that there was considerable unfairness to the occupiers of the house and to your mother, who has had to sit through these proceedings. It was your intention to frighten the occupiers of the house and, in that objective, you plainly succeeded."