Why STV News published the apology of a paedophile
Head of news Steven Ladurantaye explains why STV showed child abuser Jim McCafferty's apology.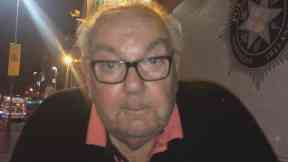 It's a troubling video - a convicted paedophile about to step into custody confessing to his abhorrent acts and asking other men who were involved to do the same.
Jim McCafferty said he wants to "apologise for all the young people" he has been "bad to" and "damaged."
The former Celtic youth coach gave the interview to a reporter on the steps of the jail that is now his home for almost seven years. Self-serving? Yes. Pathetic? Yes. Genuine? Doesn't feel like it. Contrite? Doesn't feel like it. But is it news? Yes.
Our court system is a difficult place for many to understand. It's closed, confusing and access is limited when it comes to video and still cameras. That means regular people don't often get to see the faces of evil as they are making their final statements to the court, of the grieved family members and victims seething on the benches as their impact statements are read into the record.
This is something else altogether. A piece of historical record that sets out the scope of his sins and gives you a sense of what is going on in his head all these years later.
Yes, viewers likely wince when he says he wants to "support the young people who have been damaged."
They'll rebuild their lives without him and his last-minute apologies. They've dealt with the damage for years and will continue to struggle to cope with what they went through because of this man.
But there are other moments that cause eyebrows to raise and add credence to the fact that this is a statement that goes beyond pure self interest and raises questions about who else may be out there waiting to be found out and put in jail alongside McCafferty.
"Don't think I'm an innocent one," he said (as if anyone thought that even for two seconds). "I'm probably as bad as the rest of them - but I hope they will apologise the same as I'm doing."
'We posted it because it's news - even if it's ugly and self-serving. It adds depth and it adds context to the abuse suffered at his hands.'

Steven Ladurantaye
Those who commit crimes are sentenced by society to live their lives behind bars. It's not always pleasant to hear what they have to say, but by letting them say it we are learning more about their motivations and state of mind. I think that's worth doing.
When he was on the news last night, there was a lot of context around his apology video. Experts talked about the crimes, background was sketched out and balance was achieved because of all the information the report contained.
That context falls away when a video is taken out of the news package and pushed out on social media. We tried to mitigate this by adding a link to the full story on our website and putting some additional material in the text that leads to the video. Some viewers felt that wasn't enough and wondered why we'd post it at all.
We posted it because it's news - even if it's ugly and self-serving. It adds depth and it adds context to the abuse suffered at his hands. And now that he's said his piece and we can read into his sincerity, we can go back to not thinking about him at all and keep his victims top of mind.
Steven Ladurantaye,
Head of news and current affairs
STV News
Download: The STV News app is Scotland's favourite and is available for iPhone from the App store and for Android from Google Play. Download it today and continue to enjoy STV News wherever you are.