News stand: Footballer poses with dead lizard, EU stay
Catch up on today's front page news from across Scotland on Wednesday, June 12.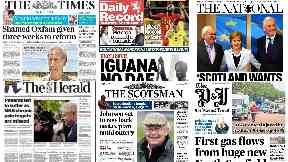 Daily Record: Ex-SPL footballer poses with dead lizard before eating it.
The National: Scotland wants to stay in Europe.
The Scotsman: Johnson set to row back on tax plan amid outcry.
The Herald: Patients left to suffer as NHS chronic pain targets are missed.
The Times (Scotland): Shamed Oxfam given three weeks to reform.
The Press & Journal: First gas flows from huge new North Sea field.