News stand: Baby-faced barbarian, dairy depot jobs risk
Catch up on the newspaper front pages from across Scotland on Friday, August 16.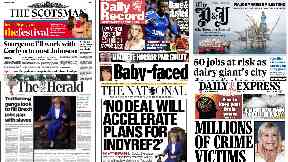 Daily Record: Baby-faced barbarian.
The National: 'No deal will accelerate plans for indyref2.'
The Scotsman: Sturgeon: I'll work with Corbyn to oust Johnson.
The Press & Journal: 50 jobs at risk as dairy giant's city depot facing axe.
Daily Express: Millions of crime victims denied justice.
The Herald: Trafficking gangs look to fill Brexit jobs gap with slaves.