Government proposal could signal death knell for local newspapers
The Scottish Government want public notices to be advertised online, saving millions of pounds for councils but cutting a vital source of income to the local press.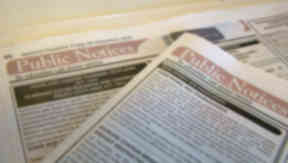 The future of local newspapers is in doubt after a government cost-cutting plan announced in the Scottish Parliament said public notices such as planning applications and road closures will no longer have to be advertised in newspapers.
Councils will instead be able to advertise online, in a move which the Scottish Government said will save millions of pounds.
Finance Secretary John Swinney said: "Public bodies must provide the best value for money. Councils have collectively identified a need to cut spending on public notices which they are legally required to advertise and pay for, costing around £6 million a year.
"The changes we are consulting on will mean councils can use a new public information notice portal instead of advertising in local papers. The new portal will provide more cost-effective public information and a means to improve communication and dialogue with the public."
The portal will publish public information notices across Scotland on one website. Users will be able to click on a map of Scotland to see listings of public notices in any area.
Other information which will not need to be advertised in the press include statutory notices about construction and licensing and public notices such as changes to refuse collection.
Mr Swinney added: "While it will be up to councils to decide the best mix of advertising to use in their area, I would expect to see immediate savings.
"With the way that people use media constantly changing, this is the most effective way to give out public information in the 21st century."
The changes are proposed in the draft Local Authority Public Information Notices (Electronic Publication) (Scotland) Order which now goes out to consultation until February.
Liberal Democrat culture spokesman Iain Smith said he was concerned at the proposal. He added: "This is a worrying about-face from the SNP. In the past they have pledged their commitment to local newspapers but now they plan to cut a valuable chunk of their income.
"The public are unlikely to stumble across a relevant public notice on the internet. Local newspapers have always been a vital means of communicating with the public. They serve a unique role in communities, especially rural and remote ones.
"The Scottish Government should be committed to ensuring their continuation." However a Scottish Government spokeswoman said: "This is a consultation that has been launched, it's not a decision that has been made."
Online advertising will be an alternative to press advertising, she said. "Obviously this would be more cost-effective and allow councils to make savings. The way people use the media is constantly changing and we need to make sure councils are able to use the most effective way to give out public information."