Domestic abuse victims in TV lifeline
Strathclyde Police offer domestic abuse victims help over festive season when incidents at highest.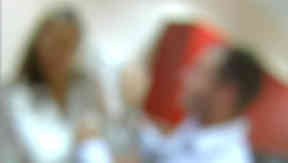 Domestic abuse is being targeted by police through TV adverts in a bid to help victims in the west of Scotland over the festive period.
Last year 11 people in the Strathclyde Police area died as a result of domestic abuse. This year police will be broadcasting the adverts to remind abused partners help is available at this time.
More cases of domestic abuse are reported during the Christmas holidays compared to any other time of the year.
In the Strathclyde region alone around 1,400 incidents were reported between the December 23 and January 4. That is more than three times the average amount.
Earlier this year Strathclyde Police established a dedicated task force to target perpetrators and created an online reporting system.
Detective Chief Inspector Peter McPike, of Strathclyde Police, said: "There is absolutely no excuse for domestic abuse. And if there was a message I'd like to give victims of domestic abuse, it's absolutely not to suffer in silence. You are not to blame for this, please seek help and report the matter."
The campaign also has the backing of a young woman from Ayrshire whose teenage sister was stabbed to death by a jealous partner.
Michelle Stewart, 17, was one of the 11 victims of domestic abuse who died last year at the hands of their partner in the west of Scotland.
John Wilson, 20, was sentenced to 12 years behind bars for murdering Michelle in the street in front of her friends.
Lisa Stewart said: "When my mum phoned me to say that he had done Michelle in at the shops, we went down to the shops thinking that he had hit her. However when we got there, it was a different scene altogether.
"Three days before it happened she was texting me asking what I wanted as a Christmas present and saying she was going Christmas shopping on the Saturday. But of course she never got to do that."
She added: "It comes in all shapes and forms and you don't need to be undergoing physical violence to actually be suffering domestic abuse."
The advert will be broadcast at peak times during the Christmas holidays.