Historic baths set for demolition
Hundred-year old baths in Clydebank face demolition as part of a £3.3m revamp of the town centre.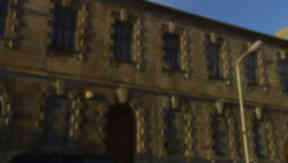 A 100-year old building which houses one of the last intact slipper bath complexes in the UK could be demolished if plans are given the go ahead.
Clydebank's town centre is set to benefit from a £3.3million investment which will see the building demolished and turned into an arts venue as part of the proposals.
But campaigners against the plans believe getting rid of the historic assets, which has survived three nights of bombing during the Blitz of World War Two, is cultural vandalism. 
The work is part of a refurbishment of the West Dunbartonshire town, which includes the revamp of the town hall.
The bath houses were designed to accommodate the health and hygiene needs of thousands of people who had no access to bathing facilities.
The still intact slipper baths, massage rooms, laundry foam room and turkish suite have laid unused for more than 20 years but campaigners believe they are a symbol of the past and should be retained.
Although councillors visited two membership-based pools in Glasgow with similar amenities and long waiting lists, the council felt there would not be the same demand in Clydebank.
Martin Docherty, of Clydebank Restoration Trust disagrees, he said: "We want a regeneration which is based on what we already have, not what we think we can actually do during probably one of the worst recessions of our time.
"This building already exists, let's not build anything new that we can't fill."
Phase two of the town plans would see the swimming pool being filled in and a gallery created in the space. 
West Dunbartonshire councillor Ronnie McColl disputes criticism that a town with so little of its past left, should want to destroy a piece of its history.
He said: "I don't think so. I think we have to move on, not so much history but a derelict building. If you were sitting 20 years ago and wanted to do this then yes it could probably have been saved. Now it's not."
The Clydebank baths were built when the local authority was responsible for public health. Nowadays improved hygiene and a rise in the number of leisure centres have rendered the amenities surplus to requirements.