Sub-zero temperatures continue to affect country
Most prolonged cold snap in 50 years keeps schools closed with temperatures likely to drop to -20c in some areas of Scotland.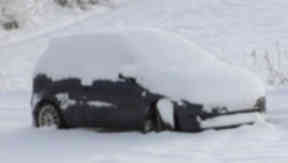 The most prolonged cold snap in 50 years continues to bring chaos to Scotland amid warnings that temperatures could plunge to as low as -20c this weekend.
Schools across Moray and most in Aberdeenshire are among the hundreds closed today. Roads all over the country are still facing treacherous conditions.
Drivers have been forced to abandon their vehicles when they got stuck in the snow and several roads in the Highlands were also closed because of the weather. Police have warned motorists to stay at home unless their journey is absolutely necessary.
The cold weather is expected to last for at least the next 10 days with severe weather warnings of widespread icy roads and heavy snow issued across the country.
STV weatherman Sean Batty warned of plunging temperatures. He said: "The worst of the snow looks like it should be over although the main risk of snow for most is still over northern and eastern parts.
"But there is concern over falling temperatures later in the week, bringing severe cold weather to parts of the west, temperatures dipping to around -12c in Glasgow while western parts of the Highlands could get to -20c or below."
The weather also disrupted the railways on Wednesday with some trains in the Strathclyde area cancelled. No cross-country mainline trains were running between Glasgow and Edinburgh.
Network Rail also said that snow and ice were hampering recovery efforts because of a freight train derailment earlier this week.
A number of empty wagons toppled on to tracks at Carrbridge train station in Inverness-shire on Monday. The replacement bus between Inverness and Aviemore was withdrawn because of deteriorating weather in the area.
Hospital A&E departments also experienced a sharp rise in visits to casualty departments, mainly from people falling in icy conditions.
More than 2,000 patients attended Aberdeen Royal Infirmary A&E between Christmas Day and January 4 with over 385 fractures treated. The fracture figures are up by more than 60% and attendance by nearly 20%.
A spokeswoman from Aberdeen Royal Infirmary said: "Some patients have mentioned the weather as being the reason for their attendance to A&E. The majority of fractures were to the wrist and ankle and the majority of those were not admitted to hospital."
First Minister Alex Salmond said the weather was now at its worst since 1963. He said 45,000 tonnes of salt and grit were available in Scotland, enough for only 10 days in a normal winter.
These supplies will be replenished but will be used for main roads because more snow and sub-zero temperatures have been forecast.
His comments came after Dumfries and Galloway Council said it had been running out of grit and accused the Scottish Government of "perpetuating the myth that salt supplies are fine in Scotland".
Mr Salmond said: "We have to have sufficient supplies which can guarantee the arterial and main roads network in Scotland. I know that's deeply frustrating for people who have been hoping for their own street to be done, or side road to be done.
"But I'm sure everybody appreciates that there is an essential requirement on both local authorities and Transport Scotland to keep the arterial routes in the country open, to keep the country moving."
Councils are being encouraged to fill grit bins with sand where possible to help members of the public to clear pavements. Emergency telephone numbers for councils will be broadcast on local radio stations.
Go here for the latest information from Scotland's councils, travel information and more details on how to cope with the cold snap.
Ministers met representatives of councils group Cosla at Government headquarters in Edinburgh to discuss further plans to deal with the cold weather.
Scottish Borders Council has urged everyone living in their area to stay at home tomorrow. All 74 schools in the Scottish Borders will also remain closed for the rest of this week, the council said.
A spokeswoman said: "The message for tomorrow is 'do not venture out on the roads. Stay tuned to local radio for updates.'
"The weather forecast is for snow showers to become more frequent and heavier across the Borders this evening and overnight, with further accumulations of snow of 5cm to 10cm widely and up to 15cm over the hills.
The snow also affected some power supplies today to homes in Selkirkshire.
A Scottish Power spokeswoman said: "It looks as though the snow brought down a conductor on our overhead network in the Galashiels area. We had a few hundred customers off supply but 80% had power again within an hour to an hour and a half.
A Scottish Government spokesman said: "Scotland is experiencing the longest unbroken cold snap for many years. Before Christmas, the Scottish Government activated our Resilience unit, which has been in constant operation.
"As a Government, we have been working round the clock to ensure all levels of government and agencies across the country are working together to deliver essential services to the public.