Labour party demand apology over 'misleading' City Garden Project claims
Aberdeen City Garden Trust denies that it has misled councillors.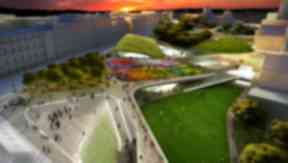 Aberdeen City Council's leader has demanded an apology over "misleading claims" over business support for the City Garden Project.
A letter sent by Aberdeen City Garden Trust to the full council ahead of a crucial vote on the £140m plans to transform Union Terrace Gardens was signed by 100 business leaders across the north-east, urging councillors to back the controversial project.
However Labour councillor Barney Crockett, whose party is opposed to the scheme, has said the letter was misleading and has written to The Big Partnership, the public relations firm acting on behalf of the City Garden Trust, asking for an apology.
He said: "The Big Partnership claimed that 100 hundred businesses have demanded that councillors vote in favour of the Union Terrace Gardens project.
"We have had businesses contacting us to say this is not the case including Clydesdale Bank, Aberdeen Sports Village, FG Burnett and the University of Aberdeen.
"I believe that the Big Partnership owe councillors an apology for what seems to be misrepresentation."
Big Partnership has said they will not be making a statement on the matter but will be replying to the letter.
Tom Smith, director of Aberdeen City Garden Trust, said: "We know that Labour have contacted some of the individuals so they are aware that while the signatories may not all be speaking on behalf of their organisations, they are all business leaders who agreed to sign the letter, supplied their signatures and are fully supportive of the City Garden Project as a major investment to regenerate our city centre.
"We hope that councillors will listen to the messages in the letter from 100 influential people who believe in and want to see an ambitious and bold project finally delivered in our city."
The letter described the plans as the "most exciting and ambitious opportunities to regenerate the city centre and reverse recent decline". It also expressed "extreme concern" about the damage it could cost the city if the project does not go ahead.
Earlier this year, more than 85,000 people voted in a public referendum on the contentious project with 52% voting in favour of the project.
Local businessman Sir Ian Wood has pledged £50m towards the development and a further £20m is expected to be generated from the private sector. A tax incremental financing loan would be used to cover the remaining cost.