Perth Racecourse voted best in Scotland
Course wins prestigious award for second time in the last three years.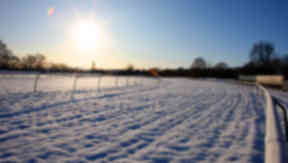 Perth Racecourse has been named the best small racecourse in Scotland and the north-east of England by the Racegoers Club for the second time in the past three years.
The award came on the back of a highly successful year which included securing a new fixture for 2010, growing attendance figures, several award nominations and the hosting of several high profile events on non race days.
The Racegoers Club awards are keenly contested by courses throughout the UK.
Sam Morshead, general manager at Perth Racecourse, said: "To win the Best Small Racecourse of the Year in Scotland and the north-east is a great accolade for us and demonstrates that the Perth Racecourse experience is one that is enjoyed by regular racing fans.
"The award has given the whole team a boost and is very welcome as we move forward to 2010 and what promises to be another fantastic season for Perth Racecourse.
"We are now planning and working towards raising the bar further for all our visitors this year and we will do all we can to ensure that the high expectations of all our visitors are achieved if not exceeded.
"Our dedicated ground staff team work tirelessly to make sure our grounds do justice to the beautiful setting we enjoy and our Catering partners Prestige Scotland continue to be innovative with a wide range of quality food offerings."
Attendance figures at Perth have continued to increase, aided in part, by the increase in the number of runners at each of Perth's fixtures.
In 2009 alone the course attracted some 882 runners across 12 fixtures, as jockeys and trainers continue to be attracted to the race course.