Scotland Tonight: The role of women in politics and public life
John MacKay debates the issue with Lesley Riddoch, Annabel Goldie and Lorraine Davidson.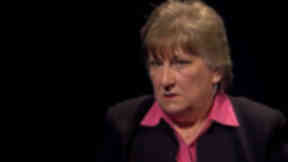 Women make up a majority of the Scottish electorate, but they remain markedly under-represented in parliament and wider political debate.
TV programmes, including Scotland Tonight, have faced criticism for the lack of female contributors.
So why are we faced with this problem and what can be done to tackle it?
John MacKay was joined to debate the issue with writer and broadcaster Lesley Riddoch, the former leader of the Scottish Conservatives Annabel Goldie and The Times journalist and former Labour spin doctor Lorraine Davidson.
Ms Riddoch made a variety of points about the role of women in society, and highlighted how showcasing more sport featuring women, like was seen at the Olympics, would help gender equality.
Ms Goldie stated there are several women currently at the heart of politics in Scotland and spoke about steps in her own party to increase the role of females.
Ms Davidson, meanwhile, raised the issue of childcare and how this affects the chances of women in the workplace.
Watch the full debate here.