River Tay anglers ordered to release all salmon
Angling season gets underway on Friday - but fisheries bosses say all catches must be released to conserve stocks.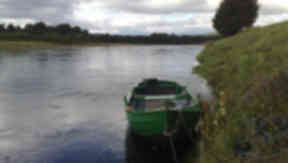 Anglers on the River Tay - one of Scotland's top salmon rivers - have been ordered to release all fish they catch after concerns over dwindling stocks.
The angling season on the River Tay officially opens on Friday - but for the first time anglers are being urged to return every salmon they land.
Anglers will be competing for the Redford Trophy, awarded annually for the biggest fish caught on the river on opening day, which will be launched by finance secretary John Swinney, MSP for North Tayside.
Tay District Salmon Fisheries Board announced the radical conservation measures following a disappointing season last year which saw catches decline by as much as 50% on some fishing beats.
Until now anglers have been asked to follow a voluntary code to release the first salmon they catch each day and to only retain one fish in two.
Throughout the season all female salmon should still be released and a maximum of only one male fish, weighing less than 10lb, retained each day.
William Jack, the chairman of the Tay board, said: "We are advocating that no salmon whatsoever should be killed before June and thereafter all hen salmon should continue to be released. In addition no more than one 'clean' male salmon should be killed per angler per day, and where possible it should be a fish of less than 10lb weight.
"Over the last few years there has been a very substantial increase in the number of salmon being released safely back into the water by anglers - for which the board is most grateful.
"However, we are mindful of the precautionary principle and believe that the Tay's catch and release code needs to be strengthened yet further."
He added: "All rivers are faced with the problem of increasing mortality of salmon at sea, which is widely believed to be due to climate change factors affecting the location and abundance of the food chain upon which salmon depend."
The code will bring the Tay into line with the catch and release policy first introduced on the Dee, Britain's premier spring salmon river, 15 years ago.
Since 1995, the Dee Salmon Fishing Improvement Association's catch and release policy has allowed more than 30,000 salmon and grilse to be released back to the river to carry on upstream to their spawning grounds.
During the Dee's spring fishing season an estimated 98 per cent of salmon are returned to the river.