Fifty per cent of male prisoners are illiterate
Shocking statistics linked to primary school illiteracy, which can lead children into a life of crime.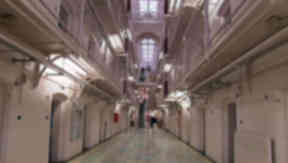 Half of male inmates attending prison education classes in Scotland are illiterate, according to official figures.
Labour MSPs have called the statistics "shocking", but not surprising, and called for immediate action to tackle reading and writing problems.
The issue has been linked to problems with literacy among primary school pupils after a report by Labour's Literacy Commission found that one in five kids leave primary unable to read and write.
Around 1,800 prisoners of Scotland's daily prison population of 8,000 are learning to read and write each month.
About 50 per cent of that figure are "functionally illiterate" - below SQA intermediate level 1 - according to the Scottish Prison Service.
Labour justice spokesman Richard Baker said: "We know that too often those who have had difficulties during school go on to play truant, get involved in criminality and then end up in prison.
"It's vital that the recommendations of Labour's Literacy Commission are put into practice as soon as possible.
"Changing our education system to eradicate illiteracy would not only improve the chances for people, but would boost business and reduce the number of individuals getting involved in crime."
Education Secretary Mike Russell announced last week that the Scottish Government is to make a literacy action plan.
A spokesman said: "We entirely agree that improving reading, writing and numeracy skills improve self-esteem and employability skills, which can reduce the likelihood of prisoners re-offending.
"However, the numbers of prisoners serving short sentences means that assessment and matching needs is not always easy, but the programmes delivered in Scotland's prisons include some recognised examples of best practice.
"These include prisoners helping each other and programmes which, for example, can help prisoners communicate better with their families."
Mr Baker said the Labour commission's report provides a "roadmap for success" and called for it to be implemented as soon as possible.
"We also need to look at training and education for those already in prison. Inmates would be better getting help with reading and other skills than playing video games," he said.