Villagers to pay millions for wind farm
Residents on the Isle of Lewis will have to fork out millions of pounds for a community-owned wind farm.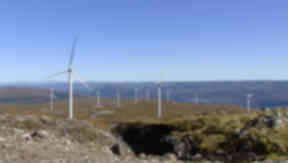 Villagers on Lewis have to raise around £18.5 million to build their own wind farm on the back of a massive renewable energy development approved by the Scottish Government last week.
The Muaitheabhal development would be Britain's largest community-owned wind scheme and has won planning permission because it was incorporated within a larger private application granted by energy minister Jim Mather.
The Scottish Government sees the controversial £152million windfarm at Eishken on Lewis as the start of big renewable projects in the islands.
The scheme will create around 150 full-time equivalent construction jobs and has potential to support existing businesses, create new ones and offer new possibilities for the Arnish Point facility.
Developer Nick Oppenheim said the energy from the 33 turbines - each is 3.6 megawatt capacity - will be exported through a proposed sub-sea cable to mainland markets.  A neighbouring large scheme is also proposed by Scottish and Southern Energy at Pairc.
Villagers in the sparsely populated South Lochs district are being offered four of the sites for free to build their own scheme on the Eishken estate but they have to pay millions of pounds for the machines themselves.
Mr Oppenheim said he has arranged a loan deal for the community in tandem with the borrowings for the main scheme.
He confirmed the community would still get four free sites even though the Scottish Government cut the number of turbines by nearly 20 per cent.
The developer will also pay 1% of income - about £8.75 million - from the main wind farm to the community trust.
Mr Oppenheim said: "We may offer the community extra sites. I think the community would like to build even more turbines."
Referring to the issues which led to North Harris Trust abandoning its community scheme, Mr Oppenheim added: "They won't run into the same problem as Monan."
The council-led Western Isles Development Trust will claim about a third of the community's earnings from their turbines which is  £7.2m over the life of the project.
This is boosted by an additional £4.4m from Mr Oppenheim's larger wind farm for the council-led fund over 25 years.