HIV man locked up after infecting partner
Woman discovered lying Mark Devereaux had infected her with the AIDS-linked HIV virus while she was expecting twins by him.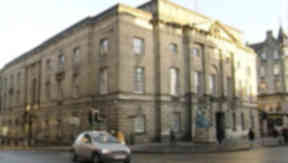 A pregnant woman discovered that her lying boyfriend had infected her with the AIDS-linked HIV virus when she was expecting twins by him.
Chef Mark Devereaux, 41,was working off-shore when the shocked 28-year-old woman came upon on a letter in their home saying that he was HIV positive.
When she confronted Devereaux he initially denied any knowledge of this - then claimed he had only known about his condition for a year.
But the High Court in Edinburgh heard on Tuesday that Devereaux had in fact known for nine years before he began their six-year-relationship that he had the virus and could pass it on.
Devereaux, now of Ann Street, Dundee, pleaded guilty to four charges of culpable and reckless conduct - admitting that he had had unprotected sex with four different women without telling them about the risks involved between January 2003 and December 2008 and various addresses in the north east of Scotland.
Three of his victims escaped infection. The woman who was found to be positive got her test result when she was three months pregnant and decided to have an abortion. Devereaux was remanded in custody and is due to be sentenced next month.
Advocate depute Alex Prentice QC, prosecuting, said Devereaux was diagnosed in 1994 and, at that time, it was explained to him in detail that there was no cure, the virus would remain in his body and that he could be infectious.
Mr Prentice said in 2003 Devereaux got to know the 28-year-old woman who, after the truth emerged, took a number of months to come to terms with her illness and thought Devereaux had unwittingly passed on the virus.
He added: "She had no idea the accused had been officially diagnosed in 1994. This only came to light a short time later."
Devereaux was questioned on July 24 last year and admitted to police that he had not told any of his partners about his HIV claiming he was "in denial". He tried to say that because he suffered no ill health himself he had been able to "completely forget" about his HIV diagnosis.
Mr Prentice said that was not true because hospital records showed he had received regular medication.
Lord Pentland called for background reports and added Devereaux' name to the sex offenders' register.