Website offers online Scottish divorce
New services makes process of divorce in Scotland cheaper and quicker.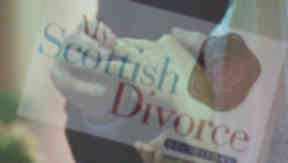 The aftermath of the festive season is probably the busiest time of the year for solicitors when it comes to marital disputes.
Now a new online divorce service is being launched claiming to take the solicitor out of the process and the fees that often go along with a break-up.
Those behind it say making divorce easier is a necessary evil, but critics argue it weakens the concept of marriage.
The new site, myscottishdivorce.co.uk offers divorce at a fixed price and the client does not even have to attend court.
Bruce de Wert from MyScottishDivorce said: "The client does the work, they fill in forms, they do everything for me, then I use that data to produce all the documents I need for the court.
"I am the final arbiter of those documents, I do check everything.
The solicitor aims to attract couples who are separated and seeking an uncontested divorce.  
Online divorcee Beverley Lalmahamode said: "I could do it in my own time, in the evenings when I came home from work so I did not have to wait to see a solicitor, I could fill in forms and just send them back and it was very easy and very fast."
In 2008, there were more than 11,000 divorces in Scotland -  and mediation services say rather than encouraging speedier divorces, more efforts should be made to get both parties face to face.
Stella Gibson from Scottish Marriage Care said: "It might be couples come along and talk through their issues and find that they can stay together and can work through the issues that they have and remain married or together, I would say that Scottish Marriage Care wild rather that people were not rushing to divorce."
History shows that in previous recessions divorce rates have soared. For couples experiencing  money problems and unemployment, a cheap online legal service may prove too tempting to resist.