Health bosses apologise over brain illness blunder
Man was told he had incurable Huntingdon's disease in 1989 - but was found to be all clear nearly 20 years later.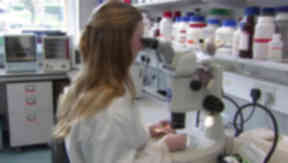 A man who was diagnosed with an incurable brain illness 20 years ago has now been told he does not, in fact, have Huntingdon's disease after both his wife and daughters terminated pregnancies for fear of passing on the disease.
The patient, known only as Mr C, was told in 1989 - while in his early 30's - that he was a likely sufferer of Huntingdon's.
The disease causes brain deterioration in later life, and Mr C and his family lived in fear of the day he would succumb to the symptoms.
But in 2007 - 18 years after the original diagnosis - he was retested, and told he did not have the illness at all.
Now a complaint against NHS Lothian and Edinburgh's Western General hospital, where he was treated, has been upheld and health bosses have been forced to apologise.
Jim Martin, the Scottish Public Services Ombudsman, said: "I think in the case of the family nothing will give them the years back. At least now they know someone independent has looked at this case, has agreed with them, they didn't get a good deal.
"And the small consolation for them I think will be that that lesson has been learnt."
NHS Lothian has issued a statement publicly apologising to the family for the anxiety and distress caused by this false diagnosis.
The statement read: "We are deeply sorry for the anxiety and distress caused to Mr C and his family and we would like to publicly apologise to them.
"We have accepted and implemented the recommendations of the report to prevent a repeat of a similar incident."