Naked beach stroll man walks free from court
Derek Holliday was arrested after holidaymaker reported seeing naked man near the corner of wood beside popular seaside caravan park.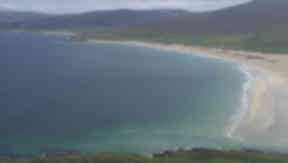 A man who admitted strolling naked along a Scottish beach clutching a bag filled with "male sex toys" walked free from court after a sheriff branded him eccentric - but not a criminal.
Derek Holliday, 58, was arrested after a holidaymaker reported seeing a naked man clutching his private parts near the corner of a wood beside a popular seaside caravan park, while she was out walking her dog.
Cupar Sheriff Court heard that the incident, between Shell Bay Caravan Park near Elie, Fife, and Dumbarnie Links, near Upper Largo, happened near a stretch of beach which the prosecution "accepted was used by nudists and naturists".
Alison Marshall, a 46-year-old housewife, said she was at Shell Bay in September 2008 when she spotted a naked man much nearer the caravan park than she had been led to believe nudists were to be expected.
She said: "There was a man. He was naked, about five metres away, and he was holding his penis in his hand."
Mrs Marshall said she "froze", then realising she had left her mobile in her caravan she pulled out a pack of cigarettes and spoke into them, pretending the pack was a mobile.
She said: "He did nothing - just stared at me. I remained frozen for a couple of minutes, but it seemed like forever. I think I backed off, and he ran off onto the beach."
Holliday, of Abbotsford Drive, Glenrothes, denied conducting himself in a disorderly manner by "parading naked" in front of Mrs Marshall on September 4 2008, approaching her, and "following her for a short time close by, to her fear and alarm".
Sheriff Charllie Macnair ruled that Holliday had no case to answer, and found him not guilty.
He said he was not satisified that any crime had been committed, and if anything criminal had happened, he was not satisified that Holliday was the person who had committed it.
Holliday's explanation for possessing a bag of sex toys on the beach, he said, "might be eccentric but is probably not criminal".
He added: "I don't consider that merely being naked at that location in these circumstances would amount to criminal conduct."