Swine flu cases on the rise
Number of Scots contracting swine flu virus in past week has increased.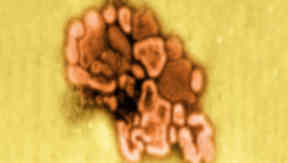 The number of people catching swine flu in Scotland increased in the past week, figures revealed.
An estimated 3,980 Scots contracted the H1N1 virus, compared with 3,770 the previous week.
The rate of GP consultations for flu-like illness decreased from 92.9 to 89.6 per 100,000. Of those, 12.3% tested positive for the virus.
Six people required hospital treatment for swine flu over the week.
Health Secretary Nicola Sturgeon said: "Despite this decrease we continue to urge parents with children aged six months to five years to come forward and accept the jag."