Man facing jail over police officer stabbing
Lyall Cameron stabbed his victim three times and also hurt another constable who sprayed CS gas on him during the attack before he was restrained.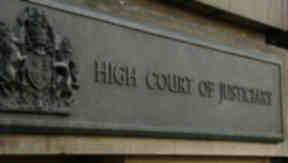 A man repeatedly stabbed a police constable and injured one of his colleagues months after he brandished a knife at officers.
Lyall Cameron stabbed his victim three times and also hurt another constable who sprayed CS gas on him during the attack before he was restrained.
Sawmill worker Cameron, 24, later told officers that he was "just lashing out in temper" but never thought of committing murder after police were called to a domestic disturbance.
He said he had been out with his wife but she was "constantly winding me up" and he snapped and wrecked the house. His mother-in-law phoned the police and told them that Cameron was "bi-polar" and "freaking out", the High Court in Edinburgh heard.
Cameron, of Montrose Street, Brechin, in Angus, was originally charged with attempting to murder the stab victim, PC Kenneth Linton, outside his home on July 11 last year.
But on Tuesday the Crown accepted his guilty plea to a reduced charge of assault to severe injury, permanent disfigurement and to the danger of life by repeatedly striking him with knives.
Judge Lord Uist remanded Cameron in custody ahead of sentencing, and told him: "You have pled guilty to serious crimes the worst being a serious assault with a knife on a police officer in the execution of his duty."
Advocate depute Morag Jack said: "Constable Linton felt one of the first blows strike him on his back near to his kidneys, below the protected area of his stab resistant vest. As soon as he felt the blow he realised he had been stabbed."
The victim tried to grab Cameron's head to push him down, but his attacker continue to lash out cutting him on the head and arms.
PC Reid used his CS spray and activated his emergency alarm button and other officers hurried to the scene. Cameron fell to his knees after being pushed down by PC Linton and as he felt the effects of the CS spray.
Two knife blades were seen on the ground and after Cameron was handcuffed police noticed the handle of a knife sticking out of a rear trouser pocket.
PC Linton was taken to Ninewells Hospital, in Dundee, and was found to have three stab wounds to the body and an arm along with scratches to his head. One wound had cut muscle and tendon on his right forearm and was treated with stitches and a cast.
Cameron was asked why he attacked the police and said: "I think I was out with the wife. I think there had been problems in my marriage. I think all night she had been constantly winding me up and then I just snapped along at the flat and wrecked the house and then I grabbed the knives and went out the door."
Ms Jack told the court: "The accused could not offer an explanation for his actions, but denied that it was his intention to kill Constable Linton."
Cameron went on to tell officers: "I deeply regret my actions. I am very sorry, but there is no excuse and I just have to take what's coming to me."