Wave power companies in funding boost
Marine energy firms in Edinburgh and Glasgow win share of £22million of grants to develop projects.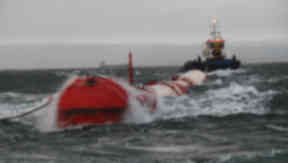 Three Scots renewable energy firms have won funding for their wave power projects.
Edinburgh-based Aquamarine Power and Pelamis Wave Power, along with Glasgow-based Hammerfest Strom UK, will receive the grants.
The Carbon Trust chose a total of six of the most promising technologies which will be supported with £22million of new funding.
The funding aims to speed up the use of full scale prototypes of the leading designs at sea.
It will enable the mass scale deployment of marine energy and boost the industry across the UK by 2020, said the Carbon Trust.
The trust said wave power is behind other forms of renewable energy but believes that this could be dramatically reduced over the next ten years.
Tom Delay, chief executive of the Carbon Trust, said: "The UK must urgently diversify, decarbonise and secure its energy sources and marine energy could over time provide up to 20% of the UK's electricity.
"Generating electricity from the UK's powerful wave and tidal resource - much of which is found off Scotland's shores - not only plays a crucial role in meeting our climate change targets but also presents a significant economic opportunity for the UK.
"Wave alone presents a £2billion economic opportunity for the UK. The demonstration of full scale devices at sea is central to realising the full potential of marine energy."
Mr Delay believes by introducing the first commercial projects will help attract private sector investment in the future.
He added: "This is the start of a major new industry that will generate jobs and wealth in Scotland and across the UK."
Energy Minister Jim Mather welcomed the funding announcement which he said shows confidence in Scotland's ability on marine energy.
He said: "The announcement is a massive vote of confidence in Scotland and another step to becoming a world leader in marine renewables.
"I am delighted to see Scottish developers command such a huge slice of this fund, both through Scottish companies Pelamis and Aquamarine, and Hammerfest Strom which is based in Scotland.
"Our continuing support for the world class facilities at the European Marine Energy Centre in Orkney means the Centre will host five of the UK's six successful schemes, bringing jobs and investment to our emerging marine energy industry.
"We are working on details of a new Scottish scheme to further support marine energy and activity in Scottish waters, and the details will be announced in due course."
Carbon Trust said research shows that 25% of the world's wave and tidal technologies are being developed in the UK, with a number of potentially world-leading companies based in Scotland.
Martin McAdam, chief executive officer of Aquamarine Power, said: "We'd like to thank the Carbon Trust and DECC for this funding and their contribution to the marine energy industry in the UK.
"This funding is just one of a whole raft of ways that they have supported Aquamarine at various stages in the growth of our business."
Max Carcas, business development Director of Pelamis Wave Power, welcomed the funding to help with their Pelamis P2 machine.
He said: "The P2 encompasses both our real at-sea operating experience with the first generation of machines, and a number of major technical innovations to improve manufacturability and enhance economic performance.
"The funding allocated will both accelerate deployment of the first P2 machine in Orkney this year, and increase the scope and pace of trials through to March 2011."