Key offshore wind farm sites earmarked
Renewable energy sector in Scotland could be 'as big as oil and gas boom of 1970s and 1980s'.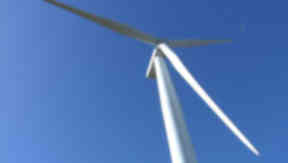 Eleven "key sites" identified for the future of Scotland's offshore wind farm industry have been identified in a new report.
Scotland's National Renewable Infrastructure Plan identifies locations that require investment if the country is to continue to be an established location for the green energy industry.
The locations highlighted are Nigg and Arnish in the Western Isles; Ardeseir, Inverness-shire; Kishorn, Wester Ross; Aberdeen; Peterhead, Aberdeenshire; Dundee; Leith; Methil, Fife; Hunterston, Ayrshire and Campbeltown/Machrihanish, Argyll.
The report warns that investment in these locations over the next five years is key to growing a globally competitive renewable energy sector in Scotland.
The plan was drawn-up by Scottish Enterprise (SE) with support from Highlands and Islands Enterprise (HIE).
Adrian Gillespie, Senior Director of Scottish Enterprise's Energy team, said: "Areas like Aberdeen and Fife already have excellent facilities and we are seeing new investment proposals being developed in a range of other sites across Scotland. 
"The further development of a first phase of locations is critical to Scotland establishing itself as a leading location for manufacturing and assembling wind turbines and marine devices.  Over time, the industry will offer significant opportunities for the whole of Scotland.
"Investing in these sites will provide companies and investors in offshore wind with suitable locations to base themselves to develop, service and support the opportunities that will be created in Scottish and UK Water for renewable energy. The sheer scale of Scotland's economic opportunity means we have to work quickly with our partners to develop the next stage of the plan, which will examine private and public sector investment opportunities."
The Scottish Government has identified the renewable energy sector as key to Scotland's sustainable economic growth.
Many Crown Estate's UK offshore wind leases are off the coast of Scotland and are attracting interest from renewable energy firms around the world.
Around 7,000 offshore turbines are due to be installed around the UK coast over the next seven to ten years.
The cost of building the wind farms in Scotland alone is expected to be around £18billion within that time.
Calum Davidson of the HIE said: "The fabrication opportunities of offshore wind have the potential to match the boom years of oil and gas in the 70s and 80s, if we can capture the manufacturing opportunities for Scotland.
"Each of the five sites identified in the Highlands and Islands possesses significant natural and infrastructural assets. Renewables manufacturing is already underway at Nigg, Campbeltown and Arnish. We look forward to working with partner agencies, developers and community representatives to further explore the opportunities for reinvigoration of facilities at Ardersier and Kishorn, both of which have a history of successful fabrication in the energy sector."
Elsewhere, coastal locations in Kintyre, Shetland and the Western Isles are also prompting interest from tidal and wave developers.