Animal campaigners blast bloodsport funding
Anger after Scottish Country Sports Tourisgm Group given public money to promote 'taster' courses in shooting, deer stalking and fishing.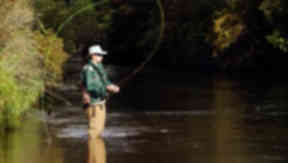 Animal welfare campaigners are angered that government money is being used to promote bloodsports in Scotland, it emerged on Wednesday.
A Scottish organisation has received funding to challenge the tweedy image of field sports and encourage ordinary people to take up grouse shooting and deerstalking.
The campaign has been launched to shoot down the aristocratic aura surrounding traditional rural pursuits and to make country sports like salmon fishing and pheasant shooting more accessible to the ordinary man.
Scottish Country Sports Tourism Group (SCSTG) is offering half-day "taster" courses in shooting, stalking, and fishing, backed by European and local authority funding.
The project is one of a series of initiatives delivered as part of a three-year project, which has received £400,000 in funding from the European Regional Development Fund. It has been launched in Perthshire and Angus, with funding and support provided by both local authorities.
The courses, costing £50 per person, also allow visitors to learn about etiquette and see how a sport fits into the rural environment.
Country sports are worth in the region of £350million to Scotland's economy each year, with more than four million participants UK-wide.
But animal rights campaigners are disgusted that "outdated bloodsports" are being actively encouraged with the use of public money.
John Robins of Animal Concern said: "This concerns me greatly. While our rural industries are very important, they shouldn't be using public money to perpetuate things that really should have gone out of fashion 50 or 100 years ago."
Ross Minett, spokesman for Advocates for Animals, added: "Many people will no doubt be surprised to learn of valuable public money being used to promote outdated 'sports' that involve terrifying, injuring or killing wild animals for entertainment."
However, Alex Hogg, chairman of the Scottish Gamekeepers Association, welcomed the "long overdue" initiative, and added: "For too long people regarded country sports in Scotland as elitist and unobtainable but that has changed dramatically in the last decade and now more people than ever are getting out and enjoying what our countryside has to offer."
Ian Robertson, SCSTG project manager, who is leading the campaign, said: "We are trying to do something positive here. The whole purpose is to open up country sports to a new market and give people, whatever their background, an opportunity to get into the countryside, make use of it, and participate.
"We want to break down these barriers and encourage everyone to try field sports and experience the great outdoors.
"Working with the councils enables us to dispel myths by attracting new visitors to this part of Scotland. These taster courses will also let people know how they can take their interest in the sport further."
A spokesman for Perth and Kinross Council added: "Field sports is worth an estimated £350million to the Scottish tourism economy annually and is also an important sector of the local tourism economy. The council is keen to support rural tourism businesses in any way it can."