Knives used in record number of killings
Blades, including knives and swords, were used in 58% of fatal attacks in Scotland during 2008-9.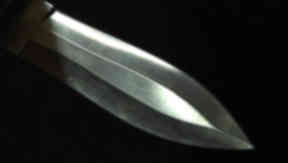 Knives were the most commonly-used weapon in killings in Scotland in the last two years, figures revealed.
Blades, including knives and swords, were used to attack 58% of victims, homicide statistics for 2008-9 revealed. A rise of 10% on the previous year.
Hitting and kicking someone to death was the method used against 10% of victims, with 8% of victims either poisoned or struck with a blunt instrument, according to the Government's statistics.
However, the number of homicide cases recorded by police has dropped, with 97 cases and 99 victims, compared to 115 cases and 115 victims for the preceding two-year period.
Strathclyde had 59 homicide cases, the highest number in Scotland and a reduction of seven compared to the 2007-08 period.
The profile of victims and those accused of killing them was also revealed, with men in the prime of their life most likely to be killed by another man fitting this description.
A total of 71 men and 28 women were killed during the most recent period measured. Of the 71 male victims, 33 were aged 31 to 50 and 27 were aged 16 to 30. Women aged between 31 and 50 were the most likely to be killed.
The accused were most commonly men aged 16 to 30, followed by men aged 31 to 50. Women aged 31 to 50 were the most common age group in the accused category.
Of the 96 victims where an accused has been identified, 84% were killed by someone known to them.
The statistics also revealed that 30% of those accused of committing homicide were drunk and 6% were on drink and drugs.
Justice Secretary Kenny MacAskill said that tackling Scotland's drinking culture could result in less violent crime.
He said: "These figures provide further depressing evidence of the toll that Scotland's drinking culture is taking on this country."
Mr MacAskill said it was likely that the number of killers who were drunk is higher, given that they were not always apprehended immediately.
He added: "If we successfully tackle Scotland's drinking culture we can significantly reduce the number of people who get caught up in violent crime."
Mr MacAskill said Government measures included increasing the number of jail terms for knife carriers and explaining the consequences of carrying knives to youngsters.
Homicide is defined as cases of murder or culpable homicide.
Causing death by dangerous driving and causing death by careless driving while under the influence of drink or drugs are excluded.