Snow falls across most of Scotland again
Snow to move into Scotland from the south, with 10cm expected to fall in some areas.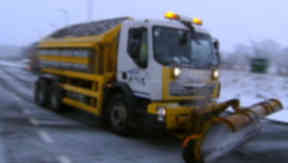 Snow has again fallen across most of Scotland, with heavy falls and high winds causing disruption to roads and closing schools across the north of the country.
The snowfalls have been heavy at times, particularly in the Borders and Dumfries, with up to 10cm of snow falling. Strong winds are forecast which will result in blizzards over hilly areas. Forecasters say the snow will continue into Thursday and Friday, with up to 50cm in total expected in high areas.
On Tuesday heavy snow caused chaos in Shetland with every school on the islands closed.
Motorists were warned that main roads were only passable with extreme care and that most side roads were blocked completely. 
A severe weather warning was issued for the islands by the Met Office.
STV weatherman Sean Batty said snow is set to arrive from the south.
He said:  "Some heavy bursts are possible at times - especially around the Borders and Dumfries.
He added: "The snow will continue through much of the day with up to 10cm falling locally on lower ground and as much as 20cms over higher ground.
"Along with the snow there will be strong winds which will cause drifting - especially over the hills.
"Snow will turn more to a rain and sleet mixture around coastal areas and islands and then later around southern parts."