STV unveils iPhone app and online push
VIDEO: First look at new app as plans announced for content 'wherever, whenever and however' users want it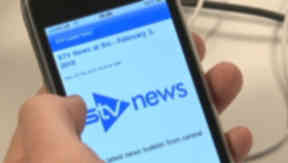 STV has announced the first details of a push into mobile devices, including a first look at its new app for the iPhone and iPod Touch, and details of plans to bring the STV Player catchup service to smartphones and handheld devices.
The new iPhone app, which STV plans to submit to Apple's App Store in early March, will contain the latest news, sport and entertainment updates, including video and the daily bulletins, with round-the-clock weather forecasting for many Scottish towns and cities.
Wednesday's announcements come as the broadcaster details plans to expand its ambitious digital strategy with a drive to make much of its content freely available wherever, whenever and however readers and viewers want it.
STV Player, which offers an online catch-up service with up-to-date and archive programming from STV, including Coronation Street, The Hour and classics such as Take the High Road, will also be made available on mobile devices. Part of this is driven by a new version of Adobe's Flash, which will at last make video available on handheld platforms including RIM Blackberry phones, the Palm Pre, Nvidia-powered netbooks and Google's Android devices. STV Player was recently chosen by Adobe to showcase the new technology in a demonstration alongside the New York Times and Fox News at the Mobile World Congress in Barcelona.
The wider range of websites within STV's network will follow in a mobile-friendly format later in the year, and will include STV Local, which offers more than 200 ultra-local Scottish sites featuring news, sport, jobs, reviews and business listings across the country. The sites will automatically tailor their content to the reader's location where possible, but will be available on a wide range of smartphones and mobile devices.
Alistair Brown, Head of Digital at STV, said: "STV has a wealth of content available and we're striving to make this as readily and widely available as possible, across multi-platforms. We recognise that users don't want to be chained to a PC or laptop any more so we want STV audiences to access and consume our content where, when and how they want it."
He continued: "This strategy will expose potential audiences to the diverse range of content we already produce, but also broadens the base for user-generated features, localisation and community engagement - for example news articles, pictures, comment, ratings and recommendations."