Transport company in Lotto syndicate win
The 25-strong group from David Murray Transport in Carnoustie net £739,121 jackpot prize.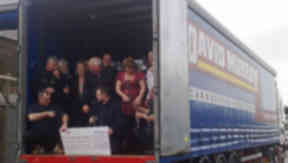 A 25-strong group of haulage workers were celebrating on Friday after they claimed the top prize in the midweek Lotto draw.
The syndicate - all employees of David Murray Transport in Carnoustie, Angus - won a £739,121 share of the £2,217,363 jackpot after they and two other lucky ticket holders matched all six numbers in Wednesday's draw.
The group includes people from all areas of the business - from firm boss David Murray, 65, down to 16-year-old apprentice mechanic Shannon Jamieson who only recently joined the company.
Their winning ticket - whose numbers were 3, 11, 18, 23, 38 and 49 - was purchased from a Tesco store in Monifieth.
Stephen Fletcher, 40, the company's traffic co-ordinator and syndicate leader rushed into work to check the ticket on Thursday morning, only to find them locked in the drawer of Margaret Murray - company director and wife of the boss - for safe keeping.
Once Margaret arrived and unlocked the drawer he raced to the local Spar store to get confirmation.
Now each member will pocket £29,564.84 from the prize pot.
Ecstatic Stephen said some of the firm's workers who are out travelling the UK's roads still do not believe the syndicate has hit the jackpot.
He said: "The syndicate has been going for six years, but this is the first time we've won anything significant. Some of the drivers who are out on jobs, don't believe us yet, they think we are winding them up.
"The whole office erupted yesterday when we found out and it's fair to say that not much work was done. But when the boss is in on the fun it doesn't matter.
"We've been planning what we are going to spend the money on. I'm hoping to take my wife and kids on a trip of Disney World Florida and others are talking about major home improvements and flash new cars. David wants a new motorbike."
The David Murray Transport team is the second Scottish syndicate to scoop the Lotto jackpot in the past six months. In September 2009, The Doon Inn syndicate from Glasgow shared £4.5 million between its nine members.