Fresh appeal in Peter Tobin case
Police believe the serial killer could have murdered before and are releasing more information to jog the public's memory.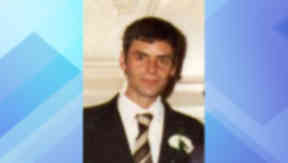 Detectives investigating serial killer Peter Tobin have issued a fresh appeal to the public for help in finding further murder victims.
The officers are publishing a huge catalogue of information on Tobin in the hope that it jogs someone's memory. They say even the most trivial detail could help them uncover more crimes.
Tobin spend a lot of time as a young man in Glasgow in the late 60s and early 70s.
Although Tobin, who was convicted of killing Polish student Angelika Kluk, Falkirk schoolgirl Vicky Hamilton and Essex teenager Dinah McNicol, will never be released from jail, police believe they have a duty to relatives to dig deeper.
After the brutal murder of Angelika at a Glasgow church in 2006, Strathclyde Police set up Operation Anagram - a nationwide investigation into Tobin's past.
IN DETAIL
Detective Superintendant David Swindle believes the "cowardly killer" is likely to have killed before.
He said new pictures of Tobin when he was younger could lead to further information about his past.
Det Supt Swindle said: "I would like to think that it jogs people's memories from way back in the early 70s and late 60s.
"That is showing Tobin as a young man. And a lot of that time he spent as a young man was in Glasgow. People might say that is a guy I remember for whatever reason.
He said it is important the public help police now as it will help their operation piece together little bits of information to amass more information about his background.
"It also shows over last 3 years the extent we have gone to, to look at Peter Tobin's life, to find out what else he has done for the sake of relatives."
He also said it is relevant to know where he worked, both in Scotland and England, in the 60s as a way at looking at another part of his life.
Det Supt said: "It is simple - anyone who knew Peter Tobin should come forward."
The officer added: "Peter Tobin will never be out of jail for the rest of his life. He will have committed other crimes. we are trying to find out what else he has done. We are assuring the public that we are doing the best to find out what this cowardly killer has done.
He said that officers found out early in the Angelika Kluk case that tobin would have done this before.
The officer said: "The sophistication and the way he travelled through the UK and what we found out after Angelika Kluk and what he did to Dinah McNicol and Vicky Hamilton - everything indicates that Tobin has probably killed other people."
Tobin was convicted of abducting and killing Essex teenager Dinah McNicol in 1991, his third murder conviction. Tobin was already serving life sentences for killing Polish student Angelika Kluk and Falkirk schoolgirl Vicky Hamilton.
It was the brutal murder of Angelika in a Glasgow church in 2006 that led to Strathclyde Police setting up Operation Anagram, a nationwide investigation into Tobin's past.
At the age of 60, Tobin had raped Angelika, stabbed her to death and hidden her body beneath the church floorboards.
He had a history of sexual violence against women. In 1994 Tobin was jailed for drugging and sexually assaulting two teenage girls in Havant in the south of England. He moved back to Scotland after his release, attacked another young woman and went on the run from the police.
He was working as a handyman at the church under a false name when he killed Angelika. Tobin was convicted of murder after a sensational trial at the High Court in Edinburgh and given his first life sentence.
The brutal nature of the crime and his attempts to cover his tracks convinced Strathclyde Police he had killed before.
Operation Anagram set out to build a complete picture of Tobin's past, and cross-check his nomadic movements around Britain against missing person cases.  Every force in the UK has been involved.**
**