Mystery fish found on Isle of Mull beach
A couple discovered the strange looking fish - which was later identified as a Dealfish.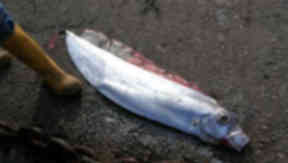 A mysterious fish washed ashore on the Isle of Mull sparked detective work by conservationists.
A couple on holiday from England reported the unusual specimen to the Hebridean Whale and Dolphin Trust (HWDT) on the isle.
The Richardsons had found the fish washed ashore near the hamlet of Ulva Ferry on the west coast of Mull.
But after involving a number of experts, the trust identified the species as a Dealfish.
The pelagic fish are named for their slim, ribbon-like appearance. They are rarely seen alive as they typically live in deep waters.
Specimens have been taken in the Atlantic, the Mediterranean, they have been found in Bay of Bengal, Mauritius and in the Pacific.
The species from the Atlantic has occurred chiefly on the northern coasts, Iceland, Scandinavia, Orkneys and Scotland. It can grow to eight feet long.
 
Specimens seem usually to be driven to the shore by gales in winter, and are sometimes left by the tide.
A spokesman for HWDT said: "Nobody could identify the fish so we decided to make some enquiries which revealed that the fish is a Dealfish. Found at depths during the day, the fish ascends at nigh time to the surface.
"Thanks to the Ulva Ferryman for spotting the fish, Mr and Mrs Richardson for reporting the sighting and also the Argyll Fisheries Trust for helping with identification."